Gov. John deJongh Jr. and Lt. Governor Greg Francis met with the leaders of the St. Croix and St. Thomas-St. John business community Thursday morning as the administration continues to assess the economic impact of Hovensa's decision to close its oil refinery on St. Croix within the next three months.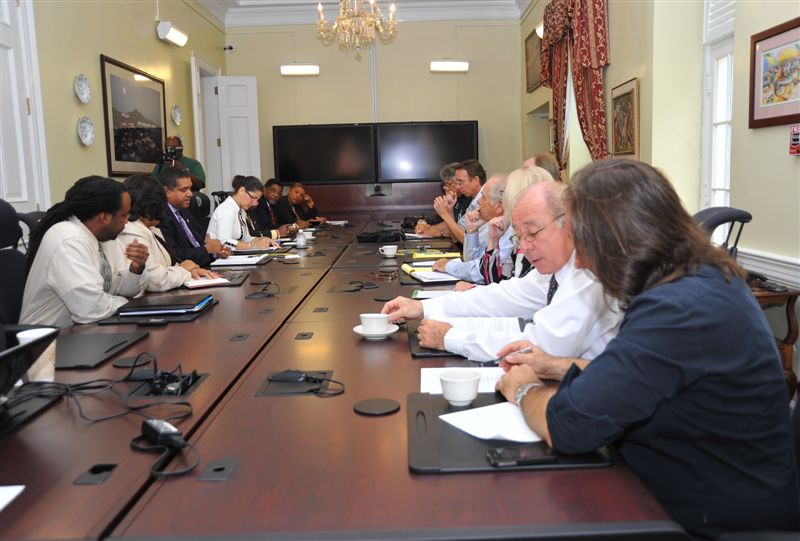 DeJongh opened the discussion with an overview of the administration's efforts in responding to the Hovensa announcement, according to a statement from Government House. Joined by Tourism Commissioner Beverly Nicholson Doty, Energy Office Director Karl Knight, Economic Development Authority Chief Executive Officer Percival Clouden, and EDA Assistant Chief Executive Officer Jennifer Nugent-Hill, DeJongh addressed the financial impact of Hovensa's closing as "more on the order of $100 million."
DeJongh said WAPA is finding alternative suppliers of oil; meanwhile, Hovensa will continue to supply fuel and other petroleum products to retailers in the St. Thomas-St. John district.
Business community leaders said they wanted the V.I. Economic Development Authority to fast-track applications from companies seeking benefits. They also expressed concern over the need to increase lending, the need for more development of public-private partnerships, and a call for "an improved tax structure in the territory," according to Government House.
St. Thomas-St. John Chamber of Commerce President Richard Berry said he will submit "about 15 or so initiatives" for the governor's review that have been developed by the business community and the hotel industry that could be implemented in relatively short order.
Many of the business leaders asked the governor to work with the business community "to level the playing field for on-island small businesses" by proposing an import users tax. Several asked for greater public messaging to urge residents "to buy local" as a means of stimulating local businesses. There was also a call for sustained messaging about the value of the territory's tourism product and the need for public safety.
Knight spoke of several alternative energy projects which are being finalized for implementation. He also said work was continuing towards an electrical grid interconnection and acknowledged the Alpine Energy proposal is in process.
Other options under review include incorporating wind to energy technology and studies to determine the feasibility of using coal, liquid natural gas, and solar as alternative energy sources.
Several business leaders asked about the strict Environmental Protection Agency permit requirements the territory is subjected to, and whether those will be waived or somewhat relaxed once the refinery closes.
There are no commercial permit applications awaiting approval at the Department of Planning and Natural Resources, DeJongh said in response to a question.
Doty briefed business leaders on marketing efforts to continue to stabilize and grow airlift capacity to St. Croix, develop off season promotion strategies, and grow the film industry. Nine film projects are already slated for the territory, with one being a $3.5 million dollar project finalized by Tourism in late December, she said.
Late Thursday afternoon, deJongh also met with members of the V.I. Legislature to discuss the impending closure.
Other business leaders in attendance at today's Government House meeting included: Trudie Prior, President of the V.I. Hotel and Tourism Association; St. Thomas businessmen Tom Brunt and Sebastiano Paiewonsky Cassinelli; St. Croix Chamber President Stuart Logan; St. Croix Chamber of Commerce Executive Director Michael Dembeck; St. Thomas-St. John Chamber of Commerce Executive Director Joe Aubain and Lisa Hamilton, Executive Director of the V.I. Hotel and Tourism Association.