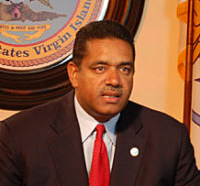 With Gov. John deJongh Jr.'s signature Wednesday, V.I. hillside homeowners are now allowed to build living space underneath existing structures, regardless of zoning, and those who have already built without approval will be granted amnesty if they otherwise come into compliance with building codes and permit requirements.
The exemptions would only apply to residential structures, and only if they meet all parking and sewer permitting requirements. Those opting to take advantage and build now will still need to obtain valid building permits first, and have two years from the law's enactment on Dec. 28 to complete construction.
The Department of Planning and Natural Resources has 60 days to establish a two-year amnesty on fines and penalties on building code violations. After the amnesty ends, property owners who were previously in violation will still be able to build once drawings and permits are received and all building codes adhered to.
A bill to allow homeowners to enclose usable space "is necessary," and a good start, deJongh said in his letter to the Legislature approving this and a slew of other year-end bills, but said it needs to be re-worked, with more attention to specifics.
"While I approve (it) today, it is deficient in many respects, which will result in substantial challenges in enforcement of current zoning and permit rules and regulations as well as create confusion within the current statutory scheme," deJongh said. He said he hoped the Legislature will "work with my administration to further clarify this measure and address these concerns."
The governor line-item vetoed sections of another bill splitting funding for the St. Thomas and St. John Dial-a-Ride programs and appropriating another $56,000 for the St. John program.
DeJongh said it tries to tap the already over-appropriated General Fund, and "in a way which sets two community organizations, both entrusted with the important mission of serving a distinct segment of the territory's population against one another in a most unacceptable and unproductive fashion."
He also vetoed two sections of that same omnibus bill which stated that, except for existing appropriations, the Insurance Guaranty Fund's remaining balance will not be used for anything other than its normal purposes until the fund is restored to its statutory level of $50 million. DeJongh said those provisions simply repeat existing law.
DeJongh approved the rest of the bill, including provisions:
appropriating $35 million from the aforementioned Insurance Guaranty Fund and give $3 million to the territory's hospitals for utility bills;
reallocating $200,000 funds from unneeded projects to repairs and construction at the St. Croix Women's Coalition, Claude O. Markoe Elementary School and Arthur A. Richards Junior High School;
requiring stories to display signs announcing it is illegal to sell tobacco to minors;
creating off-property contact licenses for time-share solicitors, letting them solicit on the street.
DeJongh also signed an act amending election law to change some absentee ballot deadlines and dates; banning election board members who run for other offices from participating in election activities; and making several other small changes to elections law, saying it brought the territory "closer to full compliance" with the federal Uniformed and Overseas Citizens Absentee Voting at and Military Overseas Voter Empowerment Act.
While signing and supporting an act establishing the University of the Virgin Islands Congressional Internship Scholarship Program, deJongh said it may wind up being an "unfunded mandate" initially, due to a lack of funding this year.
Also signed into law this week were measures:
to reserve 30 percent of the units to be built by the V.I. Housing Finance Authority in Donoe, St. Thomas, for veterans, opening up the units to sale to all comers after 60 days;
transferring government-owned property next to Magens Bay to the Magens Bay Authority;
enacting the Uniform Mechanical Code, the national standard for regulations covering mechanical trades;
requiring all students participating in interscholastic sports to have an annual physical examination, at the beginning of the sports season, and;
naming the seaplane terminal on St. Croix the Svend Aage Oveson Jr. Sea Plane Terminal, after a St. Croix-born pilot.