In the Virgin Islands, food and culture go together like fungi and fish, and the islands' unique cuisine is shaped by a blend of African and Danish heritage, as well as the many other cultural influences that have had a presence in the territory.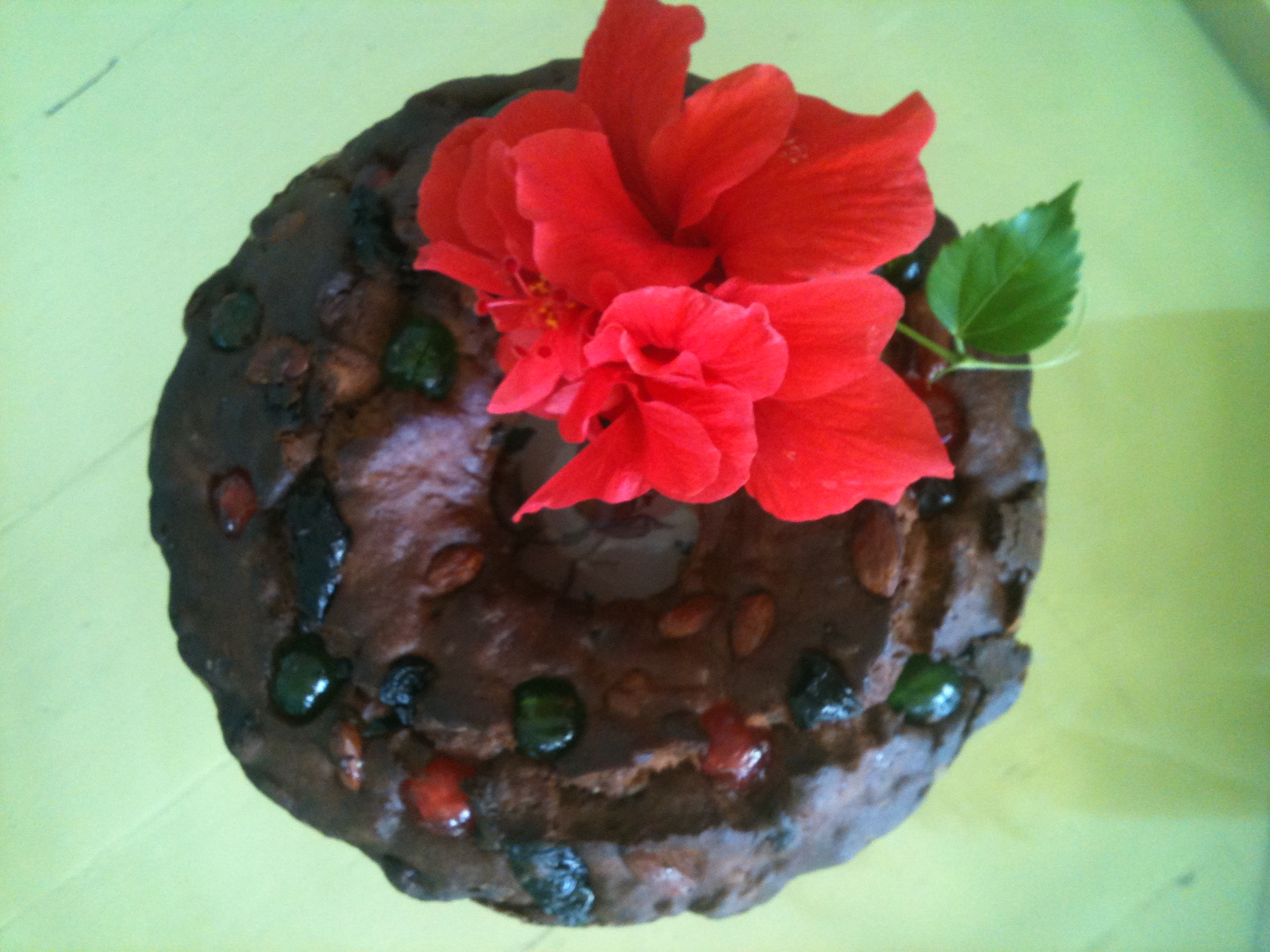 The cultural importance of what is eaten is especially apparent during the holiday season, when those who celebrate Christmas enjoy foods and traditions that are similar, but vary slightly from family to family.
Recent high school graduate, Ki-Yanna Petrus, describes Christmas at her house, listing traditional drinks and sweets, such as sorrel, eggnog, ginger beer, coquito, maubi, sweet bread, tarts, and the special holiday classic, black cake.
"Having all of these things on the table is what makes a Virgin Islands Christmas unique," says Petrus. What is eaten at Christmas "is important. It's part of our identity as Virgin Islanders."
Petrus also mentions the year round favorites of baked macaroni and cheese, potato stuffing, and kallaloo.
Carlos Robles, a fourth generation St. Thomian, is led by his vegetarianism to eat in a way that merges creativity in cooking with traditional Christmas time dishes. Robles's diet consists mainly of whole grains, fruits, and vegetables, but he "is not going to starve himself", especially not on Christmas.
Robles drinks guavaberry without the alcohol, eats tarts and sweet bread, preferably ones that are made with whole wheat, and drinks sorrel "all day." His family usually goes to his mother's house, and many people will contribute dishes to the Christmas meal.
Many residents of St. Thomas eat Christmas foods that come from their pre-Virgin Islands family history.
Deana Mills, a long-time resident of St. Thomas, who is originally from Dominica, prepares a big Christmas meal for her family that includes fresh meats, trimmings and sweets. Often these foods are similar to traditional St. Thomian dishes, but vary slightly. Mills says they always eat a fruitcake at Christmas, and many tropical fruits are imported directly from Dominica to the Virgin Islands.
Colleen Doumeng, a Californian who has called St. Thomas her home for over 20 years, describes the Christmas day meal at the home of her father and mother-in-law. Joyce Doumeng, who is a Canadian transplant, prepares ham, turkey, and an eclectic spread of dishes that vary from traditional North American Christmas fare to creations of her own.
Colleen fondly speaks about Joyce's special cranberry relish made with orange and lime zest. Every year, Joyce also prepares deviled eggs and shrimp cocktail, as well as all-beef kielbasa sausage, a testament to Joyce's Dutch ancestry.
Julie Dukes, a native Virgin Islander, who grew up on St. Thomas and spent many years in Washington, D.C. before eventually returning, recalls from her childhood that Christmas Eve meal was as important as that of Christmas Day.
Every year, Dukes's family would eat ham and her mother's homemade sweet bread the night before going to her grandmother's house for a dinner that included turkey with herbed dressing and potato stuffing. The bone of the Christmas Eve ham would be saved and used later as the base of the kallaloo, for Old Years Day supper.
Dukes says that, since the passing of her mother Edith Woods in 2005, the ham and sweetbread tradition is dwindling, at least temporarily. At the urging of her father, Dukes tried making her mother's sweetbread, but she says, while it turned out well, it just wasn't the same. "Something about her touch made it what it was," says Dukes.
While shopping for Christmas ingredients, Dukes buys local when she can, and also makes use of her own herb garden. When making a Vienna cake from her grandmother's recipe, Dukes says she wishes she could buy more ingredients locally, but almost everything she needs to make the cake is imported. She would like to see the number of people who grow produce and raise animal products expand.
Colleen Doumeng also would buy organic, and locally if more were available, but it's difficult down here, she says.
Carlos Robles will buy organic food if it is in a reasonable price range, and tries to buy as much of his food locally as he can. Robles has his own personal raised-bed kitchen garden in his home.
More important than the exact food that is eaten, or where it was purchased, is the atmosphere of sharing and togetherness that is universally associated with Christmas.
Robles exchanges gifts with his family every year, but says that food is central to the celebrations as well.
"You can't get together in my house without food," says Robles. "I think that's a part of Virgin Islands culture forever."
In many cases, gift giving and food culture overlap. The Doumengs receive a black cake as a gift from family friends every year.
"It's all about the food," says Doumeng of Christmas Day, but then goes on to say that what's most important is that up to 20 people are there every year, that the family is together, and it's a lot of fun.
Julie Dukes, whose family does a potluck style dinner at her brother's house, participates in a gift exchange for the kids, but the adults, she says, normally do not exchange gifts. The food brought and shared by the many members of her family is more important to feeling of Christmas than the custom of exchanging gifts, but even the food is secondary, says Dukes.
"The food could be ordinary, but it tastes better because you think about the person who made it, and know that they made it with love. It's about getting together and enjoying each other," says Dukes.