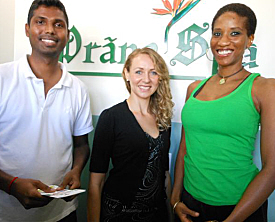 Prana is an ancient concept; it is Sanskrit for breath of life, a vital life force. It is embodied in the eponymous Prana Spa at Yacht Haven Grande resort, an unlikely location for Eastern philosophical concepts.
That is, until you walk into its calming atmosphere, and listen to the flowing words of Sreedhar Gunaganti, a doctor of natural medicine in his native India.
Gunaganti was born in Southern India, and carries the concepts of his upbringing to healing therapies at Prana Spa, which he manages. He came to study in the United States a few years ago and received his master's degree in health administration from Eastern Michigan University.
He explains the concept of healing he learned in India. "Prevention is always better," he says, "It should be the first option. This is a practice which divides Eastern and Western concept of health care."
Regular deep tissue massage, body work, for instance is a form of preventive care.
"Healing should be a holistic approach, trying to prevent ills," Gunaganti says. "I believe that healing should be a collective effort of all medical systems for the betterment of the patient. "First, we should try preventive measures, as we do in India, which strengthen the immune system, then natural methods of curing with natural herbs, and if that doesn't work, we should use modern Western medicine, medications and surgery if needed."
Gunganti hastens to emphasize that Prana is not a medical spa. "We practice healing massage, and we try to educate our clients to care for themselves, as part of their lifestyle."
Gunganti's philosophy is borne out by the experience of massage therapist Bilqis Matthew. A graduate of Charlotte Amalie High School, Matthew credits a CAHS vocational nursing course with setting her on her way to a nursing career in the States for 17 years, interrupted by a life-changing accident eight years ago.
"I was severely injured, several broken bones, tail bone, knees," she says. "I was told it would take between eight and 80 years to heal. I was determined to prove that wrong. A friend advised me to try an alternative treatment, healing massage. I was amazed by the effects of the treatment."
"Pain is a great teacher," Matthew says. "I learned through aches and pains how massage therapy can help. I learned to know my body in ways I hadn't realized before, healing ways."
Today with a massage and reflexology degree, Matthew practices what she preaches. Prana is a perfect fit for her changed outlook.
"I went back to school and learned more about anatomy," Matthew says. "I learned a new way to heal using a vitamin and herb regimen, watching my diet, taking a slow, natural path."
Matthew, who is still healing but mobile and active, uses that knowledge today in helping her clients.
She says, while the spa does perform what she calls relaxing "marshmallow massages," that's not where her heart is.
She prefers to do deep tissue or Ayurvedic massage both of which she says, "ease the stresses, the tensions we pick up in our lives."
Ayurvedic massage brings balance to the life force, prana, releasing toxins and providing complete relaxation, Matthew explains. It starts with a consultation of your body's constitution, after which herbs and herbal oils are prepared specifically for the client.
Deep tissue massage works on problem areas to break down tense and fibrous soft tissue. Warm flowing strokes combine with deep specific friction, building up pressure by increasing blood flow, boosting oxygen and flushing out toxins. Gunganti employs six massage therapists and, for less intense treatment, three aestheticians led by Deborah Carnaroli. Another aesthetician, Deborah Castolenia, talks about her profession.
"We provide facials and skin analysis, a deep cleansing facial with massage and hydration. We even have a men's exclusive facial," she says.
Carnarolie received her training in her native Texas, but she says the lure of the Caribbean drew her to St. Thomas two years ago.
The spa is busy on a weekday afternoon, but Gunganti, graceful as a maitre' d, escorts clients into therapy rooms, while taking time for an interview. He is a polite, engaging man, eager to respond to questions.
Though the spa gets clients from the yachts docked at the marina, Gunganti takes special delight in noting his clientele is primarily local. "We have returning clients, who come for preventive medicine, a therapeutic massage."
Prana offers the healing art of reiki, laying of hands over the body, reflexology, a head massage, followed by hands and feet, and inferred sauna for detox, youthful skin and pain relief.
The spa is open seven days from 8 a.m. to 8 p.m., phone 776-7899.