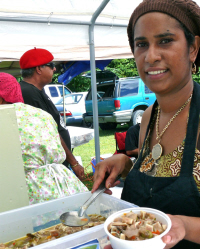 What finer way to spend a cool, breezy afternoon than roasting and eating pork, listening to live music, liming with friends and family over food and drink?
The seventh annual Cruzan Latin Caribbean Pig Roast Festival was an excellent opportunity to do just that Sunday at the Armapavie Sports Club ballpark and clubhouse by Hovensa.
Several teams roasted up a dozen or more unlucky swine over homemade, tow-able charcoal grilling whole-pig rotisseries, each of which had unique features and contraptions the owners proudly declared would result in better meat for eating. Most years the teams compete, but this year, with rain pouring down intermittently, they decided not to have a competition and the teams worked together to feed the crowd, said Armapavie club president Luis "Luisito" Garcia.
Garcia said the club's name is a synthesis of place names from which the club's founders hailed: Arecibo, P.R; Maunabo, P.R.; Panama; the Virgin Islands; and Vieques.
Sunday's festivities followed a very successful dominoes tournament Saturday evening, Garcia said. "For the first time I can remember, two ladies won," he said.
Food tents formed a semicircle in the outfield and people walked around talking to friends and nibbling on pork in the early afternoon, with Latin music filling the air. There was plenty of alcapurria, pasteles, pates, pudding and pork in all forms.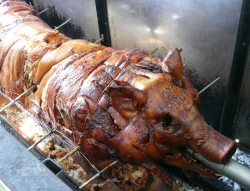 "This is the seventh year we've been here for the roast pork festival," said Gladys Felix, who was there with her sisters and daughters, selling everything from savory fried alcapurria, made from ground tania, green fig bananas, beef and spices, to arroz con dulce – Puerto Rican style rice pudding, with cinnamon, raisins and coconut milk.
Norma Nales and family, there for the first time, had lots of hearty fare, like morcilla or blood pudding, stewed pigs ear and Puerto Rican-style chicken gizzards, or molleja.
But the star of the show was the charcoal-roasted whole pig, or lechon. Juan Ayala and family roasted up seven whole pigs for the day. Jorge and Lisette Lopez and the team from Sabor Boricua roasted four whole pigs and four whole turkeys, with a pig and a turkey on each spit. "We use local charcoal," said Alejandro Leon, who was helping the Lopez team.
Several times, the skies opened up and poured buckets onto the fields and the crowds pressed into the Armapavie clubhouse and under the food tents, while cooks and grill masters scrambled to cover and protect their pork from the rain and poked tent roofs to push off the fast-growing pools of water.
The rain slowed the party down but didn't dampen spirits. The party continued on for hours, and it is certain that no one left hungry.