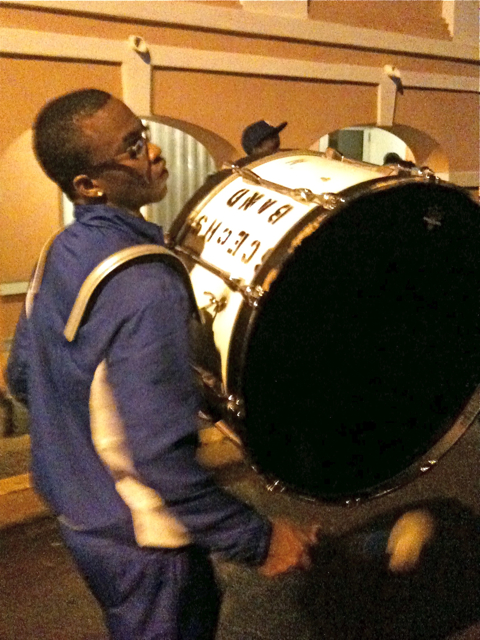 The parade was short but sweet – and lively!
A day of on-and-off rain with the threat of more may have chased off most of the potential entrants in this year's Old Time Christmas Parade, an early event in the Crucian Christmas Festival. Only the St. Croix Educational Complex Marching Barracudas and a small contingent of St. Croix Rescue Squad trainees stepped off when the parade began down King Street in Christiansted Sunday night.
Still, hundreds lined the route down King Street and back up Company, and hundreds more waited at the Festival Mini-Village at the Christian "Shan" Hendricks Vegetable Market.
Complex's band didn't wear their usual band uniforms. Partway up the street they had all stripped off the rain slickers that covered their blue and white warm-ups. Led by a trio of energetic drum majors who all but did cartwheels down King Street, the band, baton twirlers, and flag girls strutted to the pounding beat of the drum section.
During a march they sometimes chant a rhythmic phrase they've made up, designed to keep everyone in step. That may be why heads turned as the band marched along shouting, "I like ice cream with my cake."
The band members all had similar answers when asked why they had braved the possible deluge and most of the rest had passed.
"We have commitment," first-time members Lashorn Andrews and Kayla Asson, both 15, said. "We're dedicated," shouted senior Javari Peters.
"Unstoppable," junior Brianna Scotland said, summing it up.
Two Rescue Squad recruits, who declined to give their name, said they had been told they were the first group from the St. Croix Rescue Squad to ever march in the parade.
Five-year-old D'Nyah was one of the audience members watching, and she said with assurance that the Complex band was the best part of the parade.
And because the parade was short, so is this story.