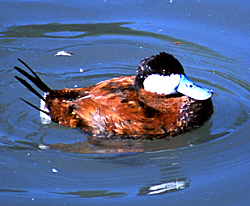 Put on those walking shoes and get out the binoculars and clipboards. The 112th annual Audubon Society Christmas Bird Count will be held Dec. 17 on St. John and Dec. 18 on St. Croix. There is no count on St. Thomas.
"It tells us how healthy our environment is," Laurel Brannick, a V.I. National Park ranger and Audubon Society member who spearheads the count on St. John.
On St. Croix, organizer Jen Valiulis said they are really short of counters this year so she's urging anyone to sign up.
"People with birding experience are great, but if people want to learn, they can pair up with someone else," Valiulis said.
While St. John is considered one "circle" because of its small size, St. Croix rates two. They include the island's East End and the rest of St. Croix.
It's necessary to sign up in advance so Brannick and Valiulis can organize the Christmas Bird Count to make the best use of time and people.
Last year, gray kingbirds topped the St. John species list at 422. Spotters saw two ruddy ducks, which the Audubon Society data crunchers indicated was an unusual species for this area.
Brown pelicans were at the top of the list on St. Croix's East End. Bird counters saw a total of 142 of them. They saw one brown-whiskered vireo, an unusual species according to the Audubon Society.
For the rest of St. Croix, the 295 gray kingbirds were the most species spotted. No unusual species turned up.
The annual Christmas Bird Count happens around the world.
"Audubon was a social network before the world ever heard the term," Audubon President David Yarnold said in a press release. "Each December the buzz from our social network goes up a few decibels, as people with the knowledge and the passion for birds provide what no organization alone can."
Scientists rely on the data from the Christmas Bird Count to better understand how birds are faring.
"Data from Audubon's Christmas Bird Count are at the heart of hundreds of peer-reviewed scientific studies," Audubon Chief Scientist Gary Langham said.
The Christmas Bird Count data not only helps identify birds in most urgent need of conservation action, it reveals success stories. The Christmas Bird Count helped document the comeback of the previously endangered Bald Eagle as well as significant increases in waterfowl populations. Both were the result of conservation efforts, the press release noted.
According to the Audubon Society press release, last year's count shattered records. A total of 2,215 counts and 62,624 people tallied over 60 million birds. Counts took place in all 50 states, all Canadian provinces, plus 107 places in Latin America, the Caribbean, and the Pacific Islands. The first ever Christmas Bird Count tally was submitted from Haiti, where the count circle is located at Les Cayes, the birthplace of John James Audubon.
The Audubon Christmas Bird Count began in 1900 when Frank Chapman, founder of Bird-Lore, which evolved into Audubon magazine, suggested an alternative to the hunt in which teams competed to see who could shoot the most game, including birds. Chapman proposed that people hunt birds only to count them.
Call Brannick at 776-6201, extension 257. Reach Valiulis at 514-7578.