Individuals with disabilities will now be able to get a 20 percent tax reduction to build or modify their homes to make them more accessible thanks to Gov. John P. deJongh Jr., who signed into law a "visitability" bill Thursday morning that has been in the making for five years.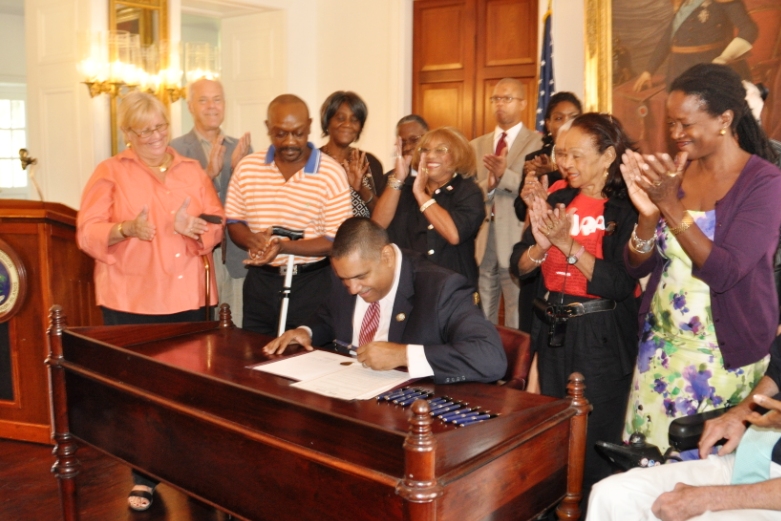 At 11 a.m., dozens of disability rights advocates gathered in the ballroom of Government House on St. Croix to watch the governor sign his name to the bill that creates a voluntary incentive program rewarding owners with tax incentives for making their homes "visitable."
Mark Vinzant, who spearheaded the Coalition for Visitablity in 2007, was amazed that the legislation finally passed.
"It took a long time, but after we decided to change the bill making it voluntary to modify the homes with the tax incentive, it was much easier to push through," Vinzant said.
The bill amends the housing code, enacting the Virgin Islands Visitable Housing Design and Incentive Act, which establishes basic standards for the construction of visitable dwellings.
The standards involve three features: a stair-less entrance, a first-floor wheelchair accessible bathroom, and wide entrances and doorways. These construction elements open up homes, both for visits and rentals, to people bound to wheelchairs or with limited mobility.
It was the first time the governor signed a bill on St. Croix, and deJongh noted that he was proud to sign a bill that had been five-years in the making.
"This is something I've been extremely committed to ever since I started to run for office," deJongh said. "It wasn't so long ago that many of us gathered to celebrate the 20th anniversary of the Americans with Disabilities Act—a landmark piece of civil rights legislation that opened doors — literally and figuratively — to a group of Americans whose challenges in the past were too often ignored or neglected," de Jongh said.
"During that ceremony, we noted with pride the progress we have already made, but we also called attention to the work that still needed to be done. Bill No. 29-0042, which I signed today, was one of those unfinished pieces of business," the governor said.
The governor called attention to the five advocacy groups that have been championing the legislation, and whose members joined him at the signing ceremony: the VI AARP, the Virgin Islands University Center for Excellence on Developmental Disabilities, the Disability Rights Center of the V.I., the V.I. Association for Independent Living, and the Americans with Disabilities Ad Hoc Committee.
The governor also thanked Senator Shawn Michael Malone, the bill's sponsor.
As the governor signed his name – using one pen for each letter – disability advocates crowded around excited for their chance to receive one of the pens.
DeJongh even joked as he was finishing the last two letters: "No it's not going to take five years," he said smiling.
Stephanie Barnes, the territory's first Americans with Disabilities Act (ADA) coordinator, who has been advancing training and employment opportunities for Virgin Islanders with special needs, said that the day was extremely significant.
"This is the largest group of individuals with disabilities ever assembled for a signing, and it's a historic moment that reminds me of when the ADA was signed into law 20 years ago. It was so moving to watch the governor hand out the pens to the advocates that worked so hard to make this happen."
Wendy Garcia, who has a daughter with cerebral palsy and is also a chairperson for the Disability Rights Center, was thrilled to receive a pen.
"I'm going to give this to my daughter – she'll love it," Garcia said. "It's just a great milestone that really deserves a lot of credit."
Joe Cooler has been with the fight since the beginning, and said that after years of jumping hurdles to get the territory's buildings ADA compliant that the bill was historic.
"It's taken a long time for this, but it was all worth the wait and the hassle," he said.
The governor closed his comments at Monday's ceremony by encouraging home owners to renovate their homes in accordance with visitability standards.
"By making adjustments to doorways, pathways, interior passages, bathrooms, floor space, curb ramps, and parking areas homeowners can take advantage of a 20 percent property tax reduction," the governor told homeowners.
"This bill is a good thing for all the territory's citizens," deJongh said.