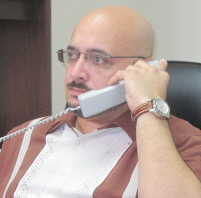 Dr. Joseph De James wears two hats at Myrah Keating Smith Community Health Center. He has seen patients since he arrived in 2000, and in mid-August, he took on the job of director.
This week, "Plumber is my newest hat," he said, laughing as he returned to his office after dealing with a leaky faucet.
De James seems to relish the challenges of director/physician.
"It's a little busier, but I've learned to manage my time somewhat better than usual," he said. De James shares patient responsibilities with Dr. Elizabeth Barot and the occasional help of a physician's assistant, Jason Snow, as well as the Myrah Keating staff. De James said that Myrah Keating has 30 to 35 full-time employees to provide care to St. John residents and visitors.
Specialists that provide services like orthopedics, endocrinology, podiatry, ophthalmology, and nutrition visit monthly to assist mainly in the care of the island's large population of diabetics. A high-risk obstetrician also comes monthly to help deal with problem pregnancies. And Myrah Keating has an affiliation with the Cleveland Clinic to provide telemedicine services.
De James is proud that Myrah Keating provides 24-hour care, and that the doctor you see on your routine visit is the probably the one you'll see when emergencies arise. Additionally, when patients can get by with just some phone advice, he'll provide it because he's gotten to know them.
That said, when a patient suffers acute symptoms, he sends them right to Roy L. Schneider Hospital on St. Thomas via the ambulance and ambulance boat.
In a far-reaching conversation, he noted that more than half of Myrah Keating's patients don't have health insurance to pay the bills. Therefore, he and the staff are aware that it's pointless to order expensive prescriptions if the patient can't afford them.
"But I don't want people to hesitate to get care because it will cost a lot more," he said.
Born 43 years ago in the Buffalo suburb of Lackawanna, N.Y., his family soon moved to his mother's native Puerto Rico. He left Puerto Rico when he went to the States for his education.
De James started his college education by getting a bachelor's degree in African-American studies, philosophy and biology from Boston College. He also received a master's degree in American and Puerto Rican studies from the State University of New York at Buffalo, where he eventually attended medical school.
He completed a three-year residency in family medicine after graduating from medical school and is board-certified in family medicine. After finishing his education, he worked for a year at the medical school's department of family medicine, but he said his goal was to work in an underserved community.
In Buffalo, patients had good access to medical care so he took up the Health Department's offer of a job on St. John.
There are always challenges at Myrah Keating, now part of the Roy L. Schneider Medical Center family, most of them related to lack of money. "Salaries, cost of supplies, equipment needs to be replaced," he said.
Despite those issues, faced by many medical establishments, he said that Myrah Keating delivers quality care.
De James fits in monthly trips to Buffalo to see his children – Vanessa, 19, Francisco, 11, and Sebastian, 8 – but other than a bit of time playing percussion and hanging out in Cruz Bay listening to music, his work is his life.
"We're trying our very best to make the place St. John's medical home," De James said, including the staff in his assessment of Myrah Keating's efforts.