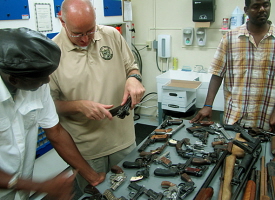 The Virgin Islands Police Department collected 35 handguns and 17 long guns Friday, the first day of a two-day gun buyback program on St. Croix.
It continues from 9 a.m. to 3 p.m. Saturday at the Department of Agriculture in Estate Lower Love. The gun buyback program is part of the department's effort to get illegal weapons off the streets, according to a report from the department.
"People were already waiting there when we opened at 9 a.m.," St. Croix Chief of Police Christopher Howell said, "and there was a steady stream of people throughout the day."
The most unusual weapon collected Friday was a 1914 rifle made in Canada for Great Britain for use in Word War I. More modern weapons included shotguns with extended magazines and collapsible or pistol grip stocks.
Howell said he expected Saturday's collection to be even bigger.
"We could not have anticipated the overwhelming response on Friday and we are prepared for even more on Saturday," he said.
People can turn in their unregistered weapons, no questions asked at the gun buyback. Cash donated by the St. Croix Foundation will be paid on the spot. People bringing in firearms are asked to secure the weapon in the trunk of their car and go to the east gate of the Department of Agriculture in Estate Lower Love.