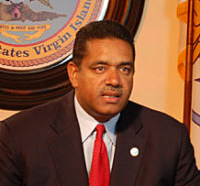 Gov. John deJongh Jr. disowned the 2012 budget passed by the V.I. Legislature in a scathing address Friday evening, saying it irresponsibly leaves a $15 million hole for the government to fill through layoffs because senators ducked unpopular tax increases and cost-cutting measures.
"This budget shortfall means that they are leaving to me the obligation to eliminate more expenses from your government, and the only place to cut is personnel and personnel costs," deJongh said in an evening address on area radio and television stations Friday.
When he first presented his administration's budget proposal, it included an increase in gross receipts tax from 4 percent to 5 percent, and nine unpaid holidays, deJongh said. These measures, while not popular, would have balanced the budget without layoffs or cuts in services, according to deJongh. But the Legislature eliminated the unpopular parts, without replacing them with other measures to balance the budget, he said.
"The proposed budget by the Legislature has done nothing to generate the real revenue without which their budget is not balanced and is simply not sustainable," deJongh said.
He cannot veto the budget, because of the chance of a government shutdown. "This is not a risk I will consider given the gravity of our current economic conditions and the fact that all of the families of our territory would be immediately impacted," deJongh said. Instead he will withhold his signature but allow the budget to become law.
"I am not going to put my signature on this budget so as to indicate to you, the taxpayers of the territory, or to the senators of this Legislature, that this is my Budget. It is not. It is the 29th Legislature's and theirs alone," he said.
"None of this was really necessary and the Legislature can take steps to fix this," said deJongh. "But they have spoken clearly and said, 'Governor, this is up to you – we are not up to the task.'"
The administration will be preparing plans for living under the budget approved by the Legislature, including layoffs, deJongh said. "This will, as we all know, come at a terrible cost to individuals and families, as well as to private sector businesses and their employees who count on the business of our government workers for their livelihoods," he said.
In September, the Legislature passed a $719.9 million General Fund budget, with $602.7 million to fund the personnel costs and day-to-day operations of all the executive branch agencies, from V.I. Fire Service and Police Department to the departments of Education and Public Works. The budget followed in broad outline the budget submitted by deJongh in June with an array of mostly minor changes, but without all the cost-saving and revenue-generating proposals from Government House.