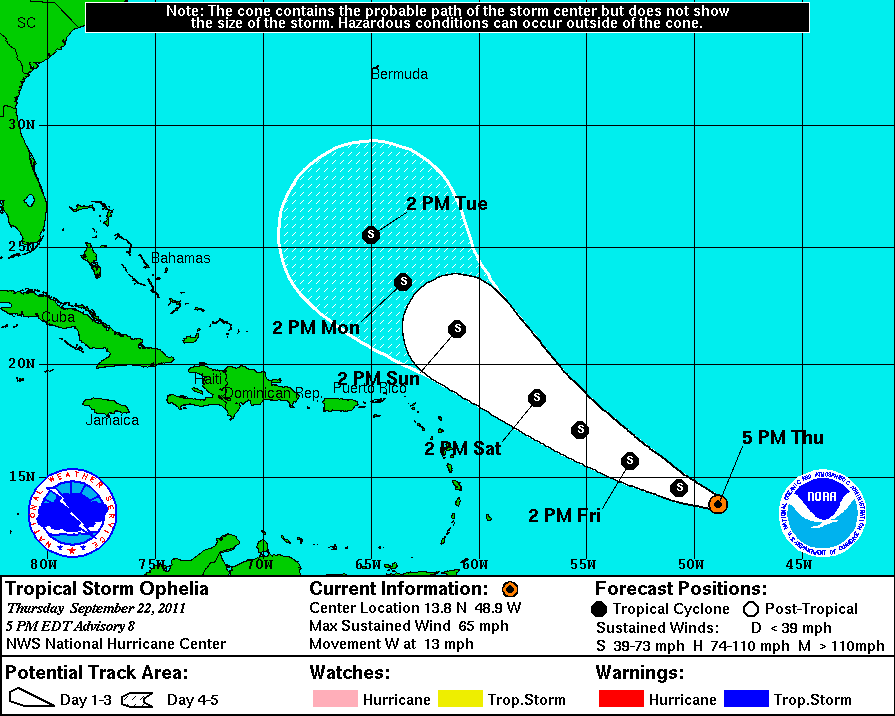 There's still good news about Tropical Storm Ophelia. It's continuing on a track that will take it 300 to 350 miles northeast of the northern Virgin Islands early Sunday. The gap between the northern Virgin Islands and Ophelia has widened slightly since Wednesday, putting the territory even farther from harm's way.
Ernesto Morales, a meteorologist at the National Weather Service in San Juan, said the territory can expect some rain on Monday and Tuesday, but at this point, it's hard to say just how much.
Morales said that it looks fairly certain that Ophelia will remain on this track, but of course, things can change at the last minute.
"The tail could affect us," he said.
Ophelia is moving west with a forward speed Thursday of 13 mph, but forecasters expect the storm to make a turn to the west-northwest by Friday and to the northwest Saturday. Ophelia currently has a wind speed of 65 mph, but forecasters expect that to diminish by the time it gets to the region.
According to Morales, a trough coming down from the United States will help Ophelia shift to the north, and wind shear is going to keep it from developing.
Currently, tropical storm force winds extend outward 230 miles mainly to the north of the center.
As of the 5 p.m. update from the National Hurricane Center, the center of Ophelia was located at 13.8 degrees north latitude and 48.9 degrees west longitude or about 890 miles east of the Leeward Islands.
The barometric pressure stands at 994 millibars.