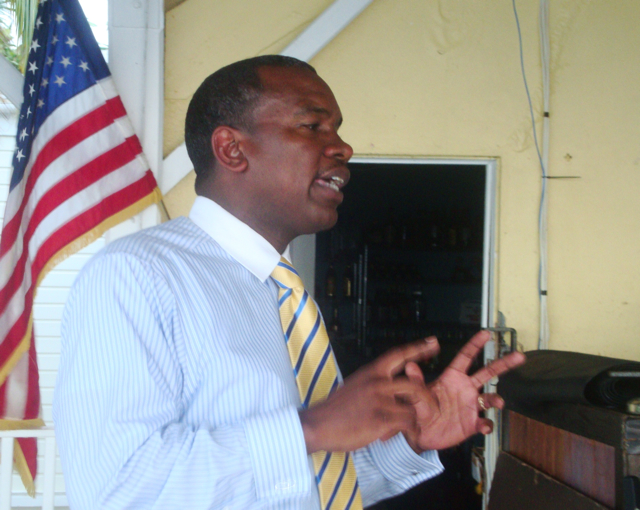 Being laid up with a broken elbow and knee surgery—courtesy of a basketball accident—showed Labor Commissioner Albert Bryan Jr. the importance of perspective, he said Wednesday when addressing the Rotary Club of St. Croix Harborside.
Stuck on the couch with his arm in a sling and his leg in a cast, he was visited by his barber, who noted he seemed perfectly happy with his phone to his ear and his laptop computer working away.
"You live in the future," Bryan said he was told. "People who live in the future are positive. You can't criticize the future. People who criticize live in the past."
That shift of perspective helps Bryan look ahead at the problems and opportunities facing the territory.
Expressing hope that the territory is "at the tail end of the storm" that has slowed economic activity around the world, Bryan said it's important to focus beyond the immediate problems and plan so that the U.S. Virgin Islands can make the most of its advantages in the future.
While the governor and the Senate battle over the immediate future of the next budget, Bryan asked the Rotary members gathered for their regular meeting at the Fort Christian Brew Pub on Christiansted's boardwalk, about issues looming over the horizon.
"What are we doing when the rain stops falling and the wind stops blowing?" he asked. "If we don't make adjustments now, we'll go on having the same problems we've had for the last 30 years."
The territory faces a $26 million workers compensation deficit, according to Bryan.
"That's real," he said. "Every year we take in about $8 million, and spend about $15 million."
Every state and territory is facing the same issue, he added, and the territory's debt pales next to, for instance, California's, where they borrow $850 million a month to pay workers comp. But, of course, California also has a much higher population. Bryan said the Virgin Islands faces a higher debt per person than any state.
Employment in the territory is still based on just a couple of industries. In 2010 the Department of Labor had 5,000 job openings, and Bryan said 54 percent required college or some kind of advanced training. But of job applicants with the Department of Labor, about a third don't even have high school diplomas.
Bryan said when potential employers think about locating a business in the territory, the first questioned asked is "What's your graduation rate and what do they graduate with?'" Investing in education – public schools and the University of the Virgin Islands – is an important step. And increasing enrollment at the college should be easy, he added.
"If you could go to any university anywhere in the world, why wouldn't you go to one on a beach?" he asked.