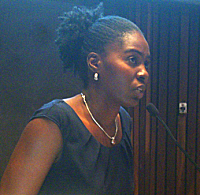 Delivette Castor, Ph.D., returned to the scene of her early academic success Friday to tell a new generation of University of the Virgin Islands students about her work on HIV/AIDS.
After earning a bachelor's of science degree in biology from UVI in 1997, Castor went on to a doctorate in epidemiology from Columbia University in New York. She is now an epidemiologist/statistician in the Office of HIV/AIDS for the State Department's U.S. Agency for International Development.
Epidemiology is the branch of medicine dealing with the incidence of disease in large populations and with detection of the source and cause of epidemics.
"What we study is diseases in populations," she said. "We try to track down what happened to patient zero (the first patient recorded with a disease,) how it passed through the population, and how to stop it."
Friday more than 50 people, mostly students and faculty of the UVI College of Science and Mathematics, listened in Room 401 of the Melvin Evans Center as she lectured on the history of the HIV/AIDS outbreak, and talked about some of the things science has learned about the disease. She gave the same presentation Wednesday at UVI's St. Thomas campus.
HIV – the human immunodeficiency virus – is "a creative virus," Castor said, because it keeps changing and mutating every time science thinks it has figured out how to control it.
AIDS – acquired immune deficiency syndrome – burst onto the scene in the 1980s. It wasn't until 1984 that science discovered the condition was caused by a virus, dubbed HIV. The first blood test to check for the disease was introduced the following year, and in the 1990s doctors began treating patients with a multi-drug "cocktail" to combat the effects.
In 1997, deaths from AIDS related causes declined for the first time since the disease was detected, mostly because of better treatment but also in part because education programs were teaching people how to change their lifestyles to avoid it. Castor said the HIV infection rate in some population groups has declined, but increased in others.
Castor has worked extensively throughout Africa studying the disease and how it passes through the population. The most important thing she learned, she said, is that you can't make generalizations. AIDS is primarily passed through sexual activity, exchanging bodily fluids, and practices are very different not just from region to region, but from country to country and even within countries, from village to village, she said.
Even more surprisingly, she told of how doctors began suspecting that whether a man was circumcised or not affected his likelihood of contracting disease. Several rounds of studies confirmed it, she said: The higher the rate of circumcision in males in a population, the lower the rate of HIV infection.
Castor's research and the work of many others help science understand how the disease works and devise means to control it. Education is critical. Early symptoms are similar to the flu, she said, so if a person who has engaged in behaviors that would expose them to HIV begins to feel something like a flu coming on, he or she should consider the possibility that they've contracted the virus. A visit to a clinic and testing will help such a person get an early start on fighting the virus.
Castor's visit was sponsored by UVI's Emerging Caribbean Scientists program. She said she wasn't sure whether she was brought back to the territory to deliver information on the disease, or to serve as an example of someone from UVI who has established herself in the greater scientific world. Either way, she said, she is happy to do it.