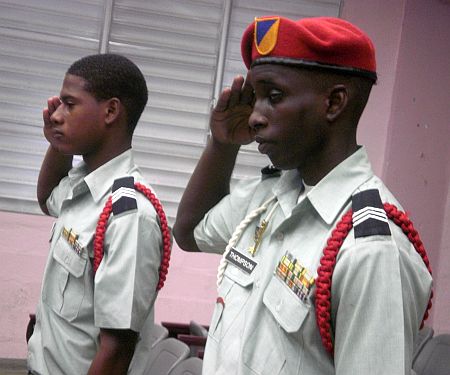 Even though Sept. 11 fell on a Sunday this year, local schools still kicked off their week with ceremonies paying respect to those who lost their lives when the planes crashed 10 years ago.
Ceremonies at Charlotte Amalie and Ivanna Eudora Kean high schools began early Monday morning, hosted by each respective JROTC battalion. Color guards started the program with the posting of the flags, while cadets also led the assemblies in poems, prayer and song.
"There were a lot of good people that lost their lives and their family members during the attacks, and we just like to remember them by putting on this ceremony," CAHS JROTC member Emanuel Zamore said Monday. "I think this ceremony also helps our student body remember the magnitude of what happened, and realize just how major an event 9/11 was."
While Zamore said he remembered watching images of the planes crashing on television at home, CAHS JROTC instructor Major Gregory Cochrane remembered being near the Pentagon, and hearing about it after returning from a morning jog. Retired from the military after 26 years, Cochrane said Monday that after losing friends and colleagues in the attacks, the day will always have a "personal" significance for him.
"This ceremony is a way of educating the youth about what happened and the impact it had on our nation," Cochrane said. "It gives them the opportunity to truly appreciate what the American spirit, heroism and true courage is all about."
"Sacrifice" was the word used most often by speakers during the CAHS event. In her speech before the school, principal Carmen Howell described the attacks as a day of "uncommon loss, and also uncommon courage," and spoke of the service rendered to victims by first responders. Members of the V.I. Fire Service attending Monday's ceremony joined in as Howell applauded the fire fighters, police officers and others that died while trying to save lives in the aftermath.
"Being a fireman from Chicago, I realized that there was going to be a lot of people hurt, killed, trapped in these buildings, and my heart went out to all the victims, and especially all the firemen that went in and never made it out," said Bruce Flamon, a Police Auxiliary member attending Monday's ceremony. "I remember crying like a baby when it happened, because I know firemen. They'll always go in, even if they know they'll never come back out."
V.I. first responders also attended Kean High's program, which was also sponsored by the school's JROTC battalion.
Sunday was proclaimed Patriot Day by Gov. John deJongh Jr. to "memorialize those men, women and children who lost their lives" in the attacks.