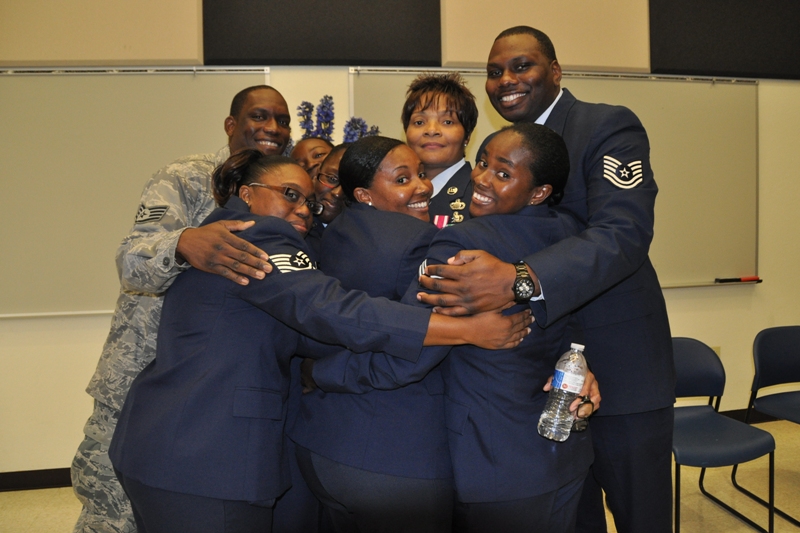 State Command Chief Master Sgt. Willette F. Lewis of the V.I. Air National Guard doesn't have children. However, after 32 years of mentoring military members it was clear on Monday afternoon that she is leaving behind 70 airmen who have adopted her as their "mother hen."
Approximately 75 people crowded the Great Hall of the University of the Virgin Islands' St. Croix campus to congratulate Lewis. She is retiring after more than 32 years of military service—29 of which were spent in the VIANG.
"The one thing I am going to miss about this organization is the people," Lewis said. "It's like being a mom and these are my children," she said holding back tears.
Speaker after speaker, the sentiment seemed the same: Lewis is going to be missed for the genuine concern she showed to her fellow guardsmen. But her caretaking goes well beyond the VIANG, said retired Chief Master Sgt. Charles A. Farrell.
"She always acted like a second mother to my son—he died when he was 19, but she just loved him like her own." Farrell said. "In fact, she is so good with kids I am thinking about asking her to open up a day care with me."
Lewis led the way for females in the VIANG. She was the first to reach the enlisted rank of Master Sgt., the first to reach Senior Master Sgt., and the first female to reach her current position as Command Chief Master Sergeant.
State Command Sgt. Maj. Mona L. Barnes can relate. She is the first female State Command Sgt. Maj. In the V.I. Army National Guard, and she said she will miss the friendship and camaraderie that she had with Lewis. They both worked at the VING joint forces headquarters and would drink coffee and chat in the mornings.
"I want to congratulate you for all that you have done for this organization," Barnes said. "If after you retire you realize something isn't going right, you just call me and say 'Sgt. Maj., you need to deal with this,' and I assure you, I will."
Col. Jeffrey D. Buckley, the chief of staff for the VIANG said that Lewis' career and achievements should be measured by the times that she made people breathless because of her hard work.
"She gave the nation 32 years, and many of those will be remembered as moments that took our breath away," he said.
Ten speakers praised Lewis for her commitment to the National Guard, she received her final award, the Meritorious Service Medal, for outstanding achievement. VING Adj. Gen. Renaldo Rivera praised her hard work and told everyone to applaud her for making the highest enlisted military rank.
After receiving nearly a dozen gifts for her retirement, Lewis finally broke into tears when she was presented with a shadow box—a common military tradition that contains awards and mementos of a person's military career.
Lewis told the audience how she didn't used to understand the words behind the military oath of enlistment, but after joining the VIANG, she said she finally understood that it's about responsibility.
"I was responsible for mentoring, teaching, training and sometimes nurturing," Lewis said. "It was my job, my responsibility; and I took it very seriously."
Lewis went on to say that how proud she was to have served her community and said she didn't regret one moment spent in uniform.
Several people came from off-island to watch Lewis retire, including her former commander, retired Col. James Brown.
"Chief Lewis always took care of everybody else," Brown said. "I just couldn't let her retire without me being here."
As the ceremony came to a close, a long winding line of teary-eyed military members and family formed where each person was able to congratulate Lewis with a hug.
"She's always been the mother hen—listening to troops' needs and meeting them to the best of her ability both professionally and personally," Buckley said. "I'm sure gonna miss her."