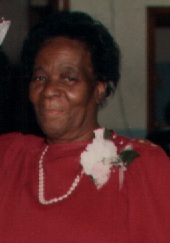 Edna Callwood of Estate Tutu died on Thursday, Sept. 8, at her residence.
She is survived by her sons: Edwin Callwood and Edward Callwood; daughters: Ritzia George and LaVerne Callwood-Frett;
brother, Thomas (Papa) George; sister, Ina O'Neal; son-in-law, Almond "Butchie" Frett; daughter-in-law, Claudine VanPutten;
grandchildren: Cheryl Van Putten, David Van Putten, Allen "Taku" Van Putten, Norecia Callwood, Dwane Callwood Sr., Joren Dickerson (Lisa), Abdul Callwood, Loren Callwood and Hakim Callwood; 16 great-grandchildren; one great-great-grandchild, as well as a host of nieces, nephews, other relatives, adopted family and friends.
There will be a viewing held at 9 a.m. followed by a funeral service at 11 a.m. on Thursday, Sept. 15, at St. Andrew's Episcopal Church. Interment will be in Western Cemetery No. 3.
All arrangements are by Davis Funeral Home.