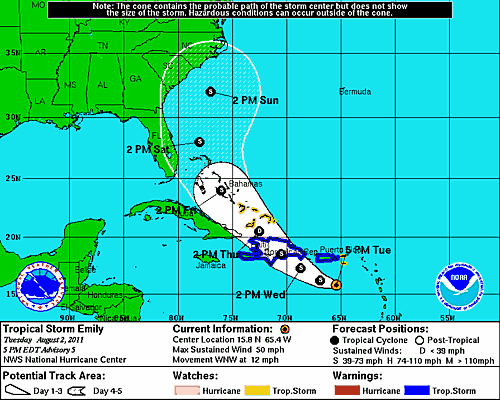 The territory remains on a Tropical Storm Watch as Tropical Storm Emily makes its way west-northwest. At 5 p.m., the storm was located 140 miles south-southwest of St. Croix.
"You're going to be getting rain bands and gusty winds through the first half of tomorrow," Brian Seeley, a meteorologist at the National Weather Service in San Juan, said at 5 p.m. Tuesday.
He said gusts across the territory will probably hit 40 to 45 mph with 50 mph felt in some areas. He expects two inches of rain to fall on St. Thomas and St. John, and about four inches on St. Croix.
Seeley said that Cyril E. King Airport on St. Thomas reported a gust of 33 mph Wednesday afternoon with sustained winds of 24 mph. Weather Station Zephyr at Ajax Peak on St. John had a gust of 32 mph around 3:30 p.m.
As of 5 p.m., Tropical Storm Emily was centered at 15.8 degrees north latitude and 65.4 degrees west longitude. Tropical storm force winds extend outward 150 miles from the center.
The storm had a speed of 12 mph with winds of 50 mph and gusts to 65 mph. The barometric pressure stands at 1005 millibars or 29.67 inches.
Emily will start to clear out of the area Wednesday afternoon, Seeley said.
"It will get better, but there's not going to be any rapid clearing," he said.
Emily is getting better organized, and the wind speed has picked up to 50 mph.
According to Seeley, a wave could reach the area Thursday or Friday, but he said currently it's not showing any signs of development.
The V.I. Territorial Emergency Management Agency sent out an advisory late Tuesday afternoon urging residents, particularly those on St. Croix, to take care.
"We are not out of the woods as of yet," VITEMA Director Elton Lewis said. "I encourage everyone to continue to be vigilant until this storm has passed us. Be prepared and ready to act if necessary."
VITEMA urged residents to stay inside and away from windows during the storm. Do not venture outside when high winds are occurring or during temporary lulls as flying debris can easily and suddenly cause serious injury.
For marine interests, a Tropical Storm Warning continues for all of the V.I. coastal waters.
Rough and hazardous seas are expected mainly across the local Caribbean waters as Emily brings increasing winds and seas beginning from late this afternoon through Wednesday afternoon. Seas are expected to peak early Wednesday morning before slowly subsiding through Friday.
The National Weather Service is advising small crafts who failed to make it to safe harbor or port and are now in distress to radio the situation according to maritime protocol. If appropriate, deploy an emergency distress beacon and ensure that everyone is wearing life jackets and survival suits if available.