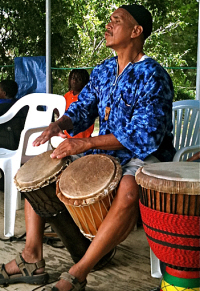 Drumming isn't just about pounding out a rhythm that gets feet moving, although that was certainly in evidence Friday morning at the Whim Museum.
Drumming is a language, a way of carrying on a conversation between a drummer and his audience, according to master drummer Baba Tyiemba Mtu, who performed a "Listen and Learn" session for about 20 elementary students.
"All drumming is communication and language," he told them. "If I am drumming, I talking to you."
And at least part of what he was telling the children in his Friday morning audience was – get up and dance! Because that's what they did.
Baba Tyiemba has been playing and making drums more than 50 years, and he's been all around the world doing it. Mostly self-taught as a drum maker, he told the students that while there are families of drums, each drum is different. Differences in the thickness of the wood, or the type of wood itself, can make enormous differences in the sound of the drum and, eventually, in its personality.
When he started playing, joined by young drummers from St. Croix and St. Thomas, the kids in the audience didn't need to be told twice what to do. They were up, bouncing, stepping and swaying as the rhythm flowed from the stage, to the kids and back up t the musicians. In the roughly one-hour performance he played songs in several languages, including English, Swahili and Yoruba.
A resident of Chicago, Baba Tyiemba will be performing in several venues on all three islands. His performance schedule includes:
7:30 p.m. Saturday, June 25, St. Croix Landmarks Society World Heritage Music Concert, at Whim Museum. Information can be obtained by calling 772-0598.
Sunday Baba Tyiemba will give a short demonstration during Mango Melee at the St. George's Botanical Gardens. Mango Melee runs from noon to 6 p.m.
July 3 – V.I. Emancipation Day, Mtu will perform at 8 a.m. on the Frederiksted Waterfront for an Emancipation and Global Day of the Drum circle.
St. Thomas – From 3 p.m. to 6 p.m. July 3, Baba Tyiemba will play at Emancipation Gardens on St. Thomas. Call 1-800-450-9170 for more information.
St. John – 8 p.m. Sunday, July 3, St. John Festival Cultural Day, Cruz Bay.
St. Thomas –July 6, Mtu will provide a drumming and wood carving workshop with students for UVI-CES St. Thomas' 4H Summer Camp. Call 340-473-6659 for details.