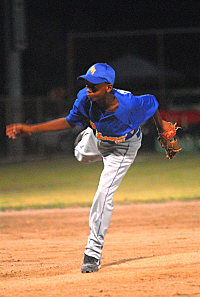 The St. Thomas 9-10 and 11-12 All-Stars left the Renholt Jackson Ballpark in Estate Whim looking like world beaters after both teams destroyed their St. Croix rivals Friday by way of the ten-run mercy rule. Both of the St. Thomas teams got dominating pitching performances from their starters as the Cruzan boys did not get one base hit in the two games combined.
9-10 League: Elrod Hendricks East, 20, Elmo Plaskett East, 0
The St. Thomas 9-10 All Stars, representing the Elrod Hendricks Little League East and led by pitching ace Mykal Thompson, came out on fire in Saturday's opening contest. After scoring just one run in the first inning, the St. Thomas squad exploded for nine runs in the second inning to take an insurmountable 10-0 lead, and the rout was on. They went on to plate three runs in the third and eight in the top of the fourth to close out the scoring for the game at 21-0.
Thomas got the win on the hill for St. Thomas, while Juan Aponte got the loss for St. Croix. Top batters for the winners were Jelbosio Selana (2 for 3 with four RBI), Claudiaus Abraham (2 for 4 with two RBIs) and Mykal Martin (2 for 4).
11-12 League: Elrod Hendricks West, 13, Elmo Plaskett West, 1
The nightcap contested in the 11-12 division showcased yet another excellent pitching performance by a St. Thomas hurler. Kalroy Brannigan, of the Elrod Hendricks West Little League 11-12 All-stars, struck out eight of the first nine batters he faced on his way to a 13-1 no-hitter. He ended up with nine strikeouts total in four and two-thirds innings of work. Elmo Plaskett Little League West's Deon Brow got the loss on the mound for St. Croix.
It was St. Thomas with 13 runs on 14 hits while St. Croix managed an unearned run. Top batters for St. Thomas were Jahmal Simmons (3 for 4 with a home run and three RBIs), Elerary Rosario (4 for 4 with two RBIs), and Jashimo Hanley was (3 for 4).