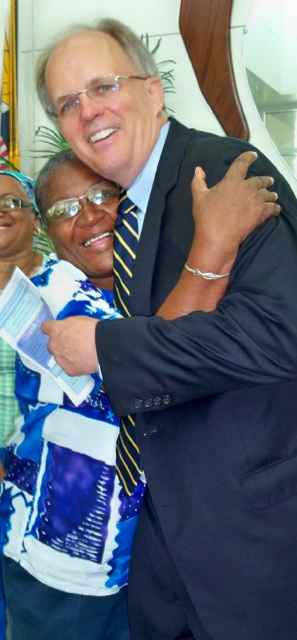 Members of Retired Nurses of St. Croix Inc. don't work bedside anymore, but they still contribute to health care in the Virgin Islands. Friday the nurses presented a $10,000 check to Virgin Islands Cardiac Center Director Dr. Kendall Griffith and Jeff Nelson, the chief executive officer of the Gov. Juan F. Luis Hospital.
"It is admirable for the nurses to continue to improve people's lives after they retire." Griffith said. "It tells me nursing is a lifetime commitment."
He added the nurses committed three years ago to donate $50,000. To date they have given $32,000.
"They were one of the first to commit," Griffith said. "It's impressive what they have done."
"We are concerned about health care in the community," said Magdelene Hobson, president of the retired nurses. "We want to make sure that everybody doesn't have to leave the island for health care."
Magda Finch, public relations person for the nurses, said VICC is where patients have to be stabilized even if they can afford to go off island for care.
"We keep in mind this is our cardiac center and we have to continue to support our center," Finch said. "This is ours and we want ours to be the best."
Griffith said the funds may go towards intra-aortic balloon pumps, which help stabilize people in cardiogenic shock, or on pacemaker software.
Hobson said the funds are raised at a spring soirée the group holds every other year, and food sales. She said since they organized in 2003 the group has given nursing scholarships and assisted a kidney transplant patient. She said there are about 30 nurses in the organization.
"We celebrate the retired nurses for their generosity and commitment to support the Cardiac Center," Nelson said at the ceremony in the lobby of VICC.