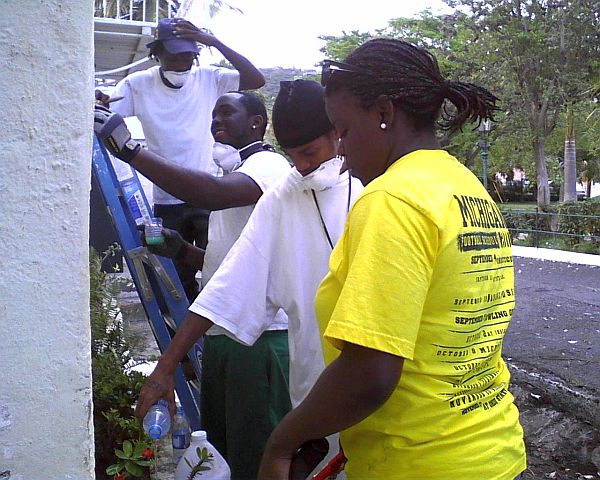 Digging, grinding, hauling and shoveling makes for a unique travel experience. But for 14 University of Michigan students it was all in a day's work during their visit to the U.S. Virgin Islands.
The students traveled some 3,000 miles to work alongside trainees from the nonprofit My Brother's Workshop, which teaches the building trades to at-risk youth, to spruce up the front of the St. Thomas Historical Trust Mini Museum Wednesday morning. Efforts included cleaning guts, replanting the landscape and general beautification of the Trust.
"These students and trainees pushed up their sleeves and did the dirty work that we needed to make us shine," said Pamela Reid, the Trust's executive director. "We're truly thankful that they walk the walk of social responsibility. "
The students are here on St. Thomas as part of the University of Michigan's Global Intercultural Experience for Undergraduates Program. The program sent teams of 15 or so students to 15 sites worldwide.
The territory was the most popular site, according to Professor Dorceta Taylor. The students learned about the local culture, conservation issues, social and economic policy, V.I. wildlife, and the local tourism industry.
The group left Michigan on May 4 and have visited the V.I. Water and Power Authority, the V.I. Economic Development Authority, Bordeaux Farm, the V.I. Historic Preservation Office, as well as the islands of St. John and Water Island.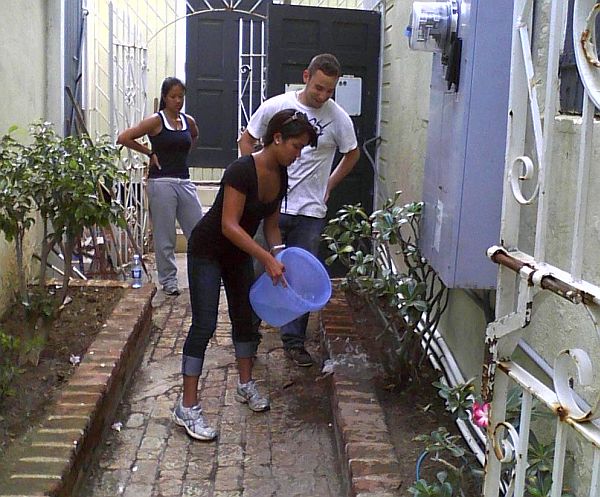 "We went to J'ouvert and the adult parade," Taylor said, "We were surprised by the large crowds and the way that people self-regulated their behavior. Everything seemed to have a rhythm to it."
The project was coordinated by Scott Bradley of My Brother's Workshop and officials from Habitat for Humanity in the Virgin Islands.
On Tuesday, the students worked at the Solberg home of a 99-year-old St. Thomian fixing her shutters and windows to improve cross ventilation in her home. The students also plan to restore a basketball court in Savan for local youth there.