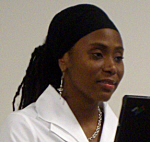 Venne Williams was recently working with a patient at the V.I Cardiac Center's rehabilitation facility when he made a strange request, one that changed her perspective on healing.
"He asked me to sing," she told the audience gathered Saturday at the center's conference room.
Williams, a physical therapist on the faculty of Florida A&M University, was one of a host of presenters Friday and Saturday for the second annual Cardiac Symposium. The conference brought health care professionals together to discuss many aspects of treating patients. And one of those aspects, Williams' subject for Saturday morning, was "The Role of Spirituality in Healing the Heart."
Williams told the audience that she first offered to turn on the radio for the patient, but that wasn't what he wanted. He wanted her to sing. She agreed, but only if he sang too. He suggested several song titles, all religious, and they finally settled on "Jesus Loves the Little Children."
"We sang it over and over while he worked, probably five times," she said. "It was eye-opening for me."
"While I was there to heal his physical body, he still had spiritual needs."
By spirituality, Williams said she's not referring necessarily to organized religion or church. It is that personal sense of being connected to something bigger than one's self, that there's more to life than the here and now.
In the earliest years of human history, medicine and spirituality were virtually one and the same thing, Williams said.
But around the 17th century they began to split, with spirituality relegated to the role of "belief" and medicine locked into hard facts and empirical data. That split is beginning to close again she said, as doctors realize they have to treat the whole patient, not just a case number or a symptom.
"Spirituality cannot be tested for or measured," she said. "It's nebulous and unquantifiable, but it's also undeniable."
Recent studies at a variety of institutions including Harvard Medical School, Johns Hopkins and the University of Florida show that a person's spirituality can have a direct effect on their physical state, according to Williams. People who consider themselves spiritual tend to have better recoveries, have lower blood pressure and heart rates and exhibit less stress and hypertension.
More study is needed to understand the role of spirituality in healing, she said, but the message to doctors is clear. Doctors need to treat the whole patient, body, mind and spirit, and at the very least should guard against saying or doing anything in treatment that demeans or disregards a patient's spiritual beliefs.
Williams was one of 18 doctors, nurses, health professionals and an attorney who spoke at the weekend conference. Among them, Dr. Michael Potts discussed "Women and Cardiovascular Disease," pointing out that women are harder to diagnose because they often present symptoms that don't match the "classic" heart disease symptoms of men – chest pain and often pain radiating down the left arm.
According to Potts, women are more likely than men to go a doctor for such symptoms as shortness of breath, nausea, upper abdominal pain or feeling faint. Because they don't present classic symptoms, they are often not diagnosed with a heart problem when in fact that's what it turns out they're suffering from.
As a result, he said, women receive less intervention to prevent and treat heart disease, even though it is a leading cause of death for women.
Potts said doctors need to evaluate more than the patient' specific symptoms, stratifying them into high, medium or low-risk categories based on symptoms, lifestyle factors such as smoking and obesity, and whether the patient has diabetes or other complicating factors.
Other topics in the two-day symposium – for the more technically inclined – included "Management of Post Myocardial Infarction Ventricular Septal Defect," "Contemporary Management of Restenosis" (having to do with stents and angioplasty balloons) and "Deciphering Cardio-Metabolic Risk in the USVI The Dyslipidemia of Insulin Resistance in Diabetic and Non-Diabetic Patients."
If residents are concerned that their doctors are smart, they can relax. At least at the Cardiac Center, they got it.