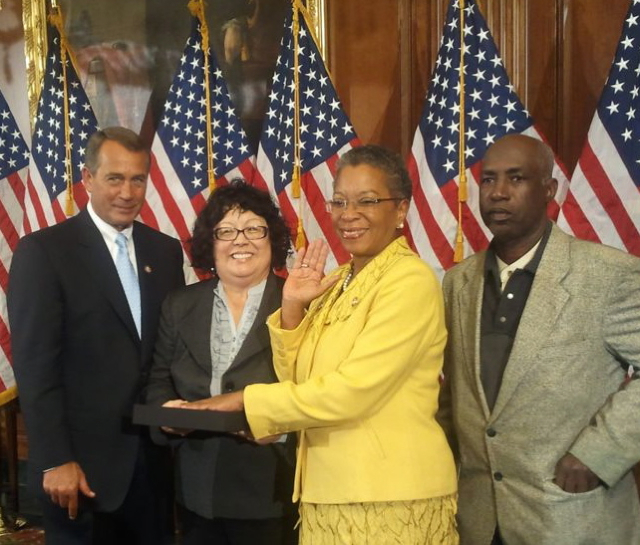 While Crucians celebrate Christmas Festival and St. Thomas recuperates from the gubernatorial inauguration, Delegate Donna Christensen was sworn in to an eighth term in the U.S. House of Representatives Wednesday.
Christensen begins this term as a part of the Democratic minority led by Minority Leader Nancy Pelosi (D-Ca.) and Minority Whip Steny Hoyer (D-Md.) as a Republican majority under the leadership of Speaker John Boehner (R-Ohio) takes the reins of the House.
Republicans used the first vote of the 112th Congress to take away the right of D.C. and territorial delegates to Congress and the resident commissioner of Puerto Rico to vote on the House floor. In a bid to open up a discussion on the question, Washington D.C. Delegate Eleanor Holmes Norton (D-D.C.) moved to have Boehner appoint a committee to study its constitutionality, according to a statement from Christensen.
Majority Leader Eric Cantor (R-Va.) immediately offered a motion to table Norton's motion and Norton then called for a roll call vote. Cantor's motion was supported 224 to 187 with 23 not voting.
Christensen and other territorial delegates rose and spoke in opposition to the new House rules.
"It was our privilege in the past two congresses to vote along with our colleagues on issues of importance to all Americans, especially the over 4 million of us who live and work in the U.S. territories," she wrote in a statement for the record.
They opposed the rules package asking the speaker to revise and extend their remarks, making them a part of the Congressional record. Debate on the "delegate vote" continued as Majority Whip Steny Hoyer and Rep. Louise Slaughter, the ranking member on the Rules Committee, Rep. Charles Rangel and other Democrats decried the loss of the vote as the "disenfranchisement of Americans."