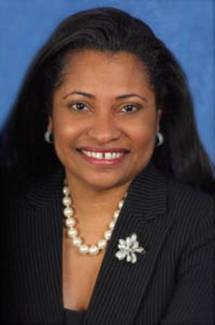 The District of Columbia Housing Authority Board of Commissioners voted in December to appoint Adrianne Todman to the position of executive director. With the assistance of Gans, Gans & Associates, an executive recruitment firm, it conducted a nationwide search, which attracted more than 138 applicants. After a careful vetting process, Todman's candidacy was recommended to the full District of Columbia Housing Authority (DCHA) Board for consideration.
LaRuby May, chairperson of DCHA's Board of Commissioners, said, "We are pleased to announce Adrianne Todman's appointment. An exceptional leader with a wealth of knowledge and experience in the affordable housing industry, Ms. Todman brings to DCHA considerable skill in working collaboratively with district and federal government partners. The DCHA Board underwent a broad and inclusive vetting process, and we are pleased that Ms. Todman enjoys the full support of our resident council, staff, elected officials and this board."
On learning of the appointment, Mayor-elect Vincent Gray said, "Adrianne Todman is a proven leader and someone in whom we have great confidence. We look forward to working with her in expanding DCHA's affordable housing and workforce development services for district residents in need. The selection of Ms Todman signals a new direction for the DCHA, and we look forward to her leadership."
With a distinguished 19-year career in public administration, Adrianne Todman has held leadership roles at both the federal and local government levels. She has served as DCHA's interim executive director for more than a year and as the deputy executive director for administration and external affairs and the deputy chief of staff for five years. During her tenure, DCHA successfully competed for and received 4 HUD HOPE VI grants. With a total of seven HOPE VI grants, DCHA has leveraged those funds to provide more than $2 billion in community redevelopment.
A former congressional staffer, Todman joined DCHA after working as a special assistant to the Secretary of Department of Housing and Urban Development (HUD), where she interfaced with the White House on affordable housing policy and programs. At HUD, she received the federal Distinguished Service Award, the HUD Superior Accomplishment Award and was a recipient of the Hammer Award from Vice President Al Gore
"We congratulate Adrianne Todman on this well deserved appointment. The District of Columbia Housing Authority is one of the largest in the nation and Adrianne Todman has the skill and talent to take it to the next level. She has been an integral part of the affordable housing industry for nearly two decades and, a former HUD staffer, she understands how to work with federal policies in effectively administering a public housing authority. We wish her well in this new position." said Sunia Zaterman, executive director of the Council for Large Public Housing Authorities (CLPHA).
"I've have been working with Ms. Todman for quite some time and know that she will always act in the best interest of public housing residents. She is a leader with compassion, integrity and a commitment to helping DCHA families to succeed," said Angelia D. Scott, president of the DC Housing Authority City-wide Resident Advisory Board.
Adrianne Todman is from St. Thomas, Virgin Islands, and is an alumna of Smith College, Leadership Greater Washington, and the Skinner Institute's Masters Series for Distinguished Leaders. She is a trustee for the National Organization of African Americans in Housing and CLPHA and a former trustee of the Alumnae Association of Smith College.