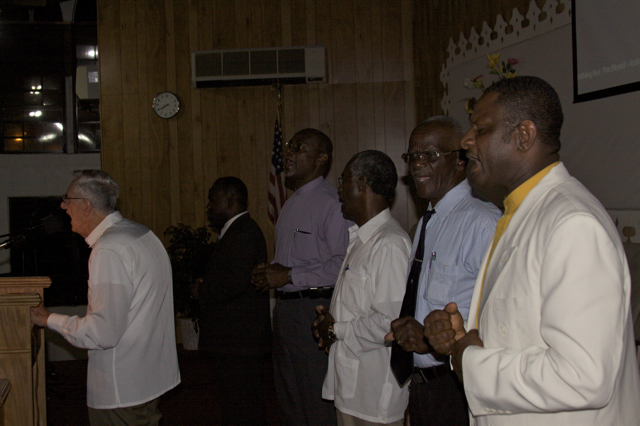 The St. Thomas Ministerial Alliance held a Christmas dinner and fellowship gathering on Friday evening at the Pilgrim Terrace Restaurant. Pastor James Petty of New Visions Ministries, who recently was elected alliance president, said the event was part of a new initiative to improve relationships between church leaders and to mobilize them to take joint actions on issues facing the community.
"We want to bring church leaders together to begin ending the bitterness and distrust that exists between us and replace it with fellowship and goodwill so that the community will see us as strong and united, and capable of getting things done," said Pastor Petty. "Then we can increase partnerships with community organizations dealing with social issues such as homelessness, improve existing programs and better promote the ministry of Christ," he said.
Activities during the event included games and the awarding of door prizes but, more importantly, gave church leaders a chance to talk with each other and build relationships.
The Ministerial Alliance is a 24-year-old organization whose mission is to promote harmony and goodwill among church leaders and provide a forum through which they can discuss problems and challenges, and work together on projects.
"We want to build relations so that we can come together and do things in a big way, to sponsor political forums, to work with community organizations," Petty said. "In the past, the alliance has contributed to a variety of social causes such as hospital emergency funds and disaster relief."
St. Thomas has a population of about 70,000 and more than 100 churches. About 20 churches are members of the alliance, which meets every fourth Saturday of the month at rotating locations. Other prominent members of the alliance are Apostle Alger Warren, Faith Christian Fellowship Church, vice president; Pastor Robert Nelson, Bovoni Baptist Church, secretary; Pastor Kenrick Bukle, the Tutu Church of God, treasurer; and Pastor Toi Thomas, International Gospel Center of St. Thomas, public relations officer.
Petty will serve a two-year term as president of the Alliance. He has been pastor 17 years at New Vision Ministries, which has a congregation of 150 members.
The St. Thomas-St. John Fellowship of Ministers will host its first prayer breakfast from 8-11 a.m. on Saturday, Jan. 15, 2011, at the Assemblies of God Church Parish Hall. Tickets can be obtained from the members of the fellowship.
For more information, contact Pastor Petty 626-4907 or Pastor Thomas at 643-1372.