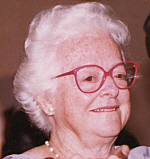 Across the island Friday, friends mourned the death of longtime resident and St. John School of the Arts founder Ruth "Sis" Frank at age 86. She died Thursday at her St. John home.
"We have lost a great icon," St. John Administrator Leona Smith said.
Friend and School of the Arts Director Jan Kinder spoke about how Frank loved St. John.
"Sis and island life were a perfect fit," Kinder said.
Jude Woodcock, a dance teacher at the School of the Arts, said she learned how to live St. John life to the fullest from Frank.
"And I can't think of anyone more multicultural and accepting of every single person than Frank," Woodcock said.
A Celebration of Life Memorial Service will be held from 4 to 7 p.m. Dec. 18 at St. John School of the Arts. Those attending can park at the Winston Wells Ballfield — and are asked to wear bright colors.
Frank left a big legacy. In addition to starting the St. John School of the Arts with Rodney Varlack and Rudy Wells, she began the island's first vacation villa management company, Holiday Homes.
Christie O'Neil, a Holiday Homes partner, called Frank an angel.
"She was a friend to everyone," O'Neil said.
Frank had a busy social life, always on hand for charitable events and other parties on St. John.
"My favorite memory is of her sitting at the Beach Bar listening to the Jazz Islanders. She had total rapture on her face," O'Neil said.
Miles Stair, another Holiday Homes partner, called her a classic grande dame.
"She had that beautiful white hair," he said.
Frank made many friends during her 51 years on St. John. Several spoke of her work with the long defunct steel pan orchestra, Steel Unlimited.
"She put St. John on the map," St. John resident Eddie Bruce said.
Bob O'Connor as well as others spoke about Frank's willingness to help. "She's going to be missed,"he said.
Frank remained active almost until her death, going to vote at Julius E. Sprauve School in the Nov. 2 election and visiting with friends throughout this week.
She came to St. John in 1959 from Norwich, N.Y., to find out for a hometown neighbor why the crews building his Cruz Bay home were working so slow. She never returned to New York.
"It was heaven. A whole new world opened up here," she said in a 2005 interview with the Source.
She worked for the St. John Corp., a tour company, but she soon started renting vacation villas.
More than a decade after her arrival she met her husband-to-be, Carl Frank, a former New York actor who frequently visited St. John. He arrived to stay in 1961. He and Frank got married in 1962, and opened the island's first insurance agency — St. John Insurance.
Holiday Homes and St. John Insurance merged and the company expanded to sell real estate.
When her husband died in 1972, she took in a partner, the late Peter Griffith.
Wanting to do something different, she became the manager of Steel Unlimited, a steel pan band.
Frank held a bachelor's degree in art education from Skidmore College. After graduating in 1946, she joined her mother's interior design firm before moving to St. John.
She is survived by her cousin Farrar "Bud" Tilney, stepson Douglas Frank, her many godchildren, and legions of friends across St. John.
Donations in her memory can be made to St. John School of the Arts. Indicate it is for the Ruth "Sis" Frank Arts Fund, which provides financial assistance and performance merit scholarships at St. John School of the Arts. The address is P.O. Box 180, St. John, VI 00831.