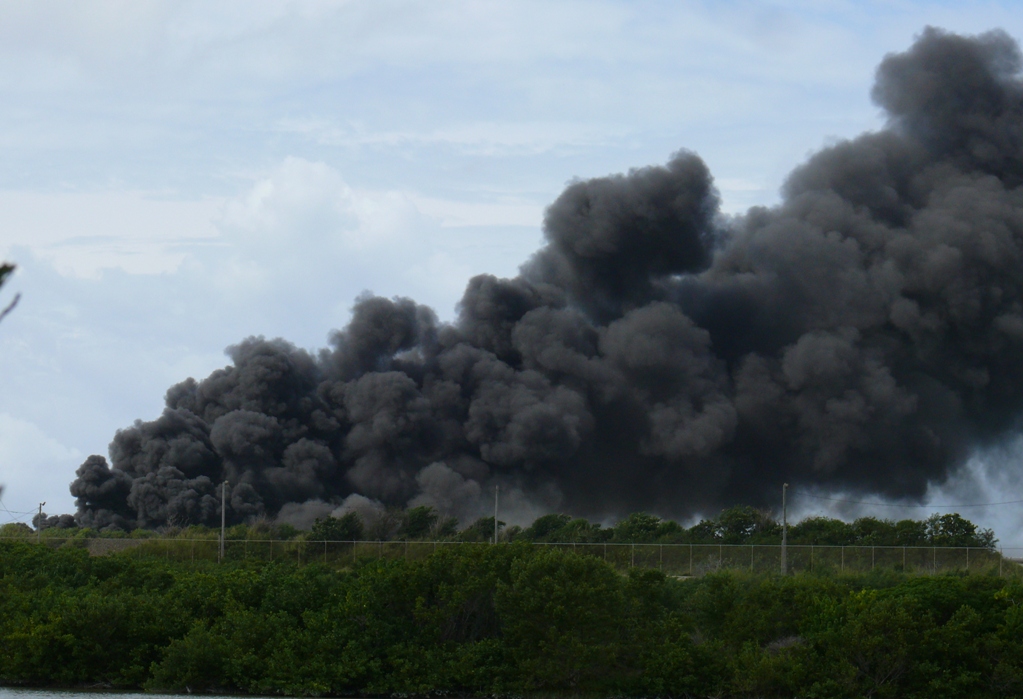 The inspections and cleanup of any residual oil left by the Sept. 30 oil flare at the Hovensa refinery has been concluded, the company reported in a statement Wednesday.
The incident occurred when a processing unit at the refinery developed problems. The refinery diverted heavy oil to a ground flare, which burned the oil, producing a large black cloud. According to the company, air quality tests found no "substance" in the air "at a level exceeding the standard established by the U.S. Environmental Association."
Some of the heavy oil also flowed into a low-pressure elevated flare, where it sprayed out and was carried downwind as small droplets of oil that deposited on private and government property estates downwind of the refinery.
Because of the fear that oil might have gotten into neighboring cisterns, residents of the affected areas were told not to use their water until it could be tested, and the company has been distributing water.
Representatives of Hovensa, working under the oversight of officials of the U.S. Environmental Protection Agency, the V.I. Department of Health and the V.I. Department of Planning and Natural Resources, inspected the areas downwind of the refinery for evidence of oil. The company sampled and analyzed the water in the cisterns of homes that were found to have oil on their roofs.
The water analyses, performed by an independent laboratory using recommendations made by the Agency for Toxic Substances and Disease Registry, found that no cisterns contained the material released during the Sept. 30 incident.
According to Hovensa's Wednesday news release, the oil droplets were residual fuel oil, which is a very heavy, non-viscous material that adheres to surfaces with which it comes into contact.
Residences on which the droplets were found were cleaned by independent cleaning contractors retained by Hovensa. Expanded examination of adjacent homes revealed no additional oiling, the company said.
Facilities downwind of the refinery – including the St. Croix Container Port, Central High School, the Curriculum Center, the Herbert Grigg Home for the Aged, the Superior Court Building, the UVI St. Croix campus, Henry E. Rohlsen Airport, the St. Croix Industrial Park, the Bureau of Motor Vehicles and the Patrick Sweeney Police Headquarters – were inspected by independent cleaning contractors, who were accompanied by a representative of the appropriate agency or property owner, according to Hovensa, and none of the facilities were found to have heavy impacts.
All have been deemed cleaned or free of impacts from the incident, the company reported.
As a result of the completion of this response, the operation of a water distribution center at St. Croix Animal Shelter was ended Tuesday.