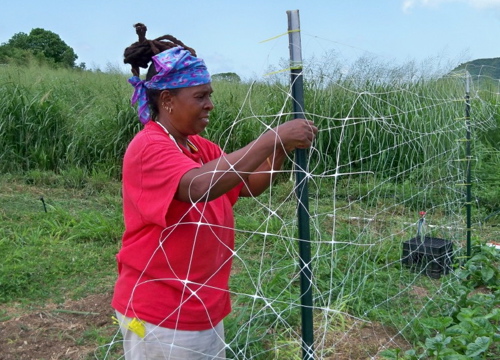 Delegate Donna Christensen and other high officials extended their condolences Monday to the family of Rita Stinson, who perished after being swept away by flash floods in Frederiksted last Wednesday.
"My heartfelt sympathies go out to her family and her many friends," said Christensen in a statement from her office.
Stinson, a resident of Estate La Grange, was a cook and co-owner of UCA, United Caribbean Association, an ital vegan restaurant in Frederiksted, where she cooked for 18 years.
She was also a dedicated farmer, working six days a week in her three-acre garden plot on the V.I. Farmers Cooperative land in Beeston Hill. As a member of the cooperative, she took on a number of tasks to help out the farmers, was the fruit and vegetable director, and was in charge of quality control at the co-op.
Stinson drowned during flash floods last Wednesday after the vehicle she was in stalled in fast-rising flood waters, and she was unable to make it to safety before being swept away.
U.S. Interior Department Assistant Secretary for Insular Areas Tony Babauta offered his condolences to Stinson's family and friends, too, as did the United Way of St. Croix's Board of Governors, management and staff.
"Rita supported the agency and its fund-raising events, especially the annual chili cook-off in which she participated in the vegetarian chili category," said Averil George, board chairwoman of United Way of St. Croix.
"She participated in the fourth through ninth annual cook-offs, and placed first in all except the eighth annual…she will be sorely missed at our upcoming 10th annual," said George.
United Way of St. Croix Chief Executive Officer Ana "Anita" Davila said the United Way Board of Governors decided to dedicate the 10th Annual Chili Cook-Off in her memory and said her passing was a tragic loss.
"I would always look forward to her participating in our annual chili cook-offs," Davila said in a statement from United Way. "Rita participated to showcase her culinary skills, but most importantly, she focused on the intent of our annual event, which was to raise funds for our member agencies in order for them to continue providing essential services to the St. Croix community."