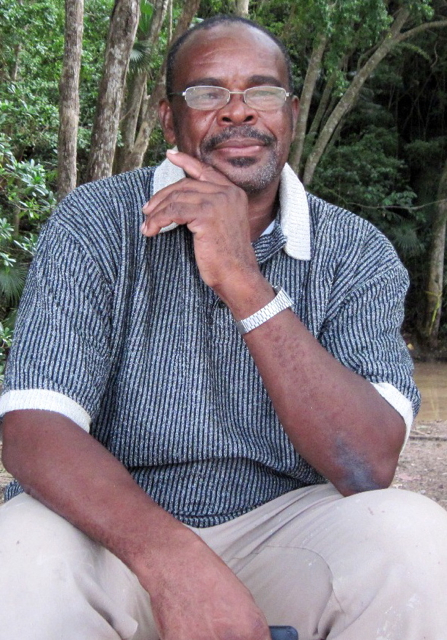 Aubrey Walters, 61, is a craftsman who takes pride in his work.
"When I'm doing a job I'm doing it for tomorrow," he said, indicating that a good job today will help get him another job tomorrow.
One of his latest projects is the construction of five picnic tables for V.I. National Park. They're built of treated lumber that makes them too heavy for tourists to move from their intended location and with stainless steel fastenings so the salt air won't corrode them.
"He's probably the most conscientious craftsman we've had the pleasure to work with," park Superintendent Mark Hardgrove said.
Hardgrove called Walters a problem solver whose work makes things better.
While the park wanted heavy-duty picnic tables, Walters said he'll build them to anyone's specifications.
However, he pointed out that while a certain size lumber might be preferred, it might not be available on St. John. He said he can made adjustments based on materials available.
Walters started his working career as a mason, but while he still does that kind of work, carpentry is his first love. He said he enjoys seeing what other craftsman build so he can learn from them.
He also has plumbing and electrical skills that he puts to good use as Lavender Hill condominium's maintenance man.
That said, he likes to mix things up and work on different projects throughout the day.
Walters moved to St. John from his native Lodge Project, St. Kitts, in 1969 because his sister lived on the island. He said at first he preferred St. Thomas because it was busy like St. Kitts, but after a while, he came to love St. John.
When he first moved to St. John, he got odd jobs "here and there," but soon signed on with architect and builder Glen Speer as a mason. From there, he went to work for Bill Embry. He soon got his own builder's license.
Walters is busy all day long and into the night, but he finds time on weekend mornings to head to the beach for some relaxation and to attend Cruz Bay Baptist Church.
"I'm the song leader and musician," he said.
When he's finished working for the day, he heads home to enjoy the vast world available on the Internet.
"I love to go and browse things," he said.
Walters can be reached at 244-8670.