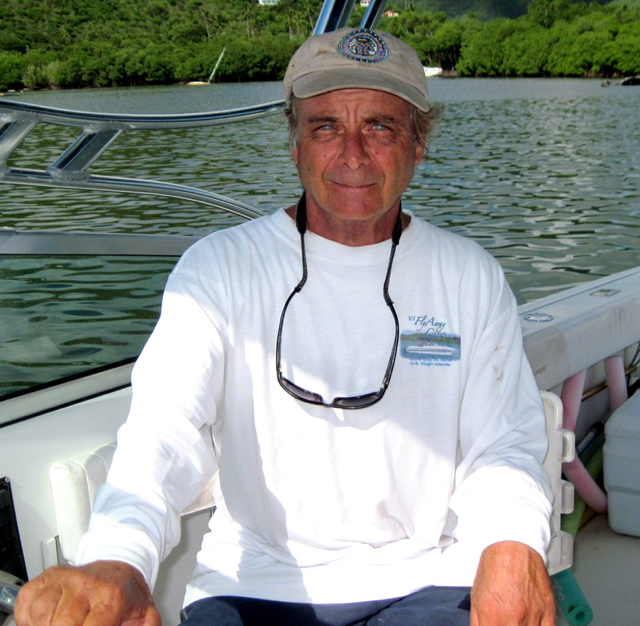 With two, 28-foot Glacier Bay catamaran power boats in V.I. Fly Away Charter's fleet, Capt. Truman Barbier is ready to take visitors and local residents out to those tiny off shore cays reached only by sea.
"Or where ever you want to go. If you haven't any idea, we'll suggest a place," Barbier, 60, said.
"We" is Barbier and Fly Away Charter's other captain, Dan Belforti, a former professional fisherman now putting his skills to use in the Coral Bay charter business
On a day-long charter, Barbier or Belforti sail out of Coral Bay. They can do a round-St. John tour, to any of St. John's bays or head off to the myriad British Virgin Islands that string east from his base in Coral Bay. Barbier said some guests want to make multiple snorkeling stops. Others want to go the restaurants and bars located on some of the area's outer islands. Some want to go shopping while on their charter.
The boat holds six passengers.
Barbier provides ice, water and soda. The passengers either bring their lunch or the boat stops at a restaurant.
Barbier started captaining a Fly Away Charter boat six years ago, but five years ago he bought the business.
No stranger to boats and the sea, Barbier grew up on the Michigan shores of Lake Huron.
"Boating was the main hobby there," he said.
After graduating from Western University in Kalamazoo, Mich., with a degree in petroleum marketing and management, he got into the petroleum business. He owned seven gas stations, a home heating oil distributorship, had a business that rebuilt existing gas stations, and operated a company that repaired fuel tanks.
"When one part was making money, the others weren't, so I held it all together," he said.
He toyed with the idea of taking over operation of the closed Domino station in Coral Bay, but said he couldn't work out terms with the company.
In 1998, he sold everything to sail with his family to South America. They meandered north, settling in Coral Bay in 2000.
"Coral Bay opened its arms to us," he said.
Eventually, he sold the sailboat and built a house up in the hills above Coral Bay. He likes Coral Bay for its peace and tranquility, and of course, it's proximity to the water.
After sailing out of Caneel Bay for Proper Yachts, he focused his efforts on his own business. He said it's grown considerably, keeping pace with the Coral Bay area's rapid growth.
"It's doubled in five years. I'm now getting most of the new villa trade," he said.
Keeping the boats maintained takes up most of his spare time, but he still finds time to head out for some boating trips to the area's beaches.
And he spends time with his children. Daughters Marjie, 23, and Nicole, 22, both live on St. John.
"There's nothing more important than family," he said.
Fly Away Charters can be reached at 514-7403 or 715-2610 in the evening or online at http://www.stjohnlinks.com/Charters/Fly-Away-Charters/Fly-Away-Charters.htm.