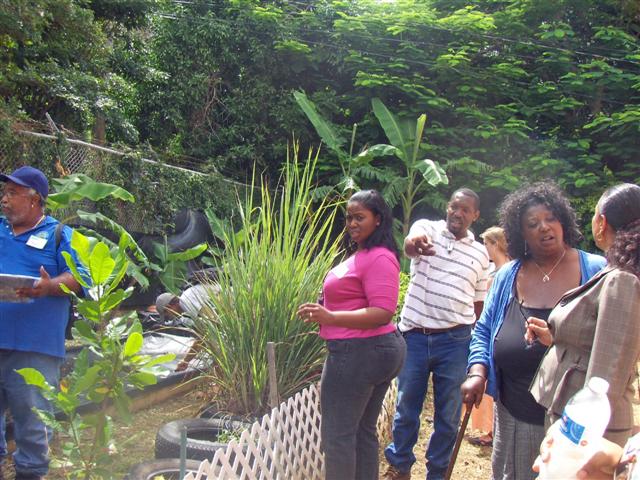 Before you even think about starting a school garden, UVI Cooperative Extension Specialist Carlos Robles says you must consider the essential components.
According to Robles, first and foremost is choosing a location, one that gets six to eight hours of morning sun, has an abundant water supply and is away from play areas and heavy foot traffic.
Robles, who was on hand Thursday at Gladys Abraham Elementary School to show teachers from St. Thomas and St. John how to improve their own school gardens, said it's also important to figure out the amount of time you'll have to tend the garden.
And that's not all. Soils and fertilizers, and materials – plastic or ceramic pots, wood blocks, tires – composting and pest management, are all basic gardening elements, which were discussed by members of the UVI Cooperative Extension Service.
Starting and maintaining a school garden, in addition to the above considerations, will never flower without lots of elbow grease, a dedicated teacher, and motivated students. And this is where Caryl Johnson comes in.
Johnson is the UVI extension supervisor for 4-H/Family & Consumer services. Growing a school garden can be easily incorporated in several school courses, she said. Math, for instance, when you have to measure a garden plot in square feet; plus home economics, nutrition studies, science and art.
The teachers got a morning-full of professional advice, followed by a trip to visit the award-winning vegetable garden at Abraham School, with a hands-on look at how that garden grew.
Robles explained that the gardens are not "organic," as such, though they don't use harmful pesticides. Organic is a legal designation for which a garden can wait three to five years to be certified. The gardens at Abraham are designated as "sustainable."
Abraham Principal Lisa Hassel-Ford told the teachers how she had gotten their garden growing. "I asked Vincent Henley, our health teacher to create a garden," she said. Showing Henley's success, she held up an award from the Carnival Culture Fair, where the garden took first place last year.
"I was thrilled," she said. "I was at Jane E. Tuitt Elementary before I came to Abraham," Hassel-Ford said. "With the help of Albion George [UVI Extension Assistant] and Carlos Robles, we started a garden there, and it was a remarkable success."
The garden had another bonus. "We had a discipline problem at Tuitt, which we don't have here," Ford said. "But once the garden got started, the kids got interested, and it became a motivating factor in their behavior. If they misbehaved, they weren't allowed to tend their garden plots."
Led by Henley, the teachers took a look at the Abraham garden. First, stopping at what the 4-H club had planted this summer, Henley pointed out sections of the plants where students had walked over some basil plants. "Good location is important," he pointed out.
Henley is excited this year about his irrigation system. Pointing to a large, blue plastic cistern donated by UVI, he said, "Soon, we will have this hooked up to electricity, so the irrigation will be timed."
Talking about getting started, Henley said that Robles and George provided initial advice, while the Agriculture Department donated seeds. George also initiated use of tires and boxes in the Addelita Cancryn Junior High School garden.
During the day, teachers got a look at what pests can do to a plant. Extension Service Entomologist Jeff Keularts held up a basil leaf that had been attacked by spider mites.
"Every plant has enemies," he said. "You have to spray underneath on these leaves," he said. "If you sprayed just on top they'd be laughing at you."
The teachers – from Addelita Cancryn and Bertha C. Boschulte Junior High and Yvonne Bowsky Elementary schools on St. Thomas; and Guy Benjamin, Julius Sprauve and Gifft Hill Schools on St. John – inspected the plants with great care, open for suggestions.
Most of the schools have gardens in varying degrees of maturity. Sprauve School teacher Katie Munnelly is an old hand. "We've had a garden for the last eight years," she said. "It's a great educational tool, for learning social skills and integrity, as well."
Cancryn Spanish teacher Eamina Gomez picked up some tips to take back to fellow teacher Wendy Diaz, who initiated the school's garden two years ago. It's been a rough road, with the construction work going on next to the garden plot, but this year looks to be better, she said.
George and Robles have donated seeds, instruction, and hours of time to helping the school get started.
Henley said the Abraham garden now supplies some of the school's food programs. "We supply some cabbage, cucumbers, eggplant, spinach and peppers for the lunch program, but," he said, pointing out three flourishing banana trees, "we also provide bananas, and lemongrass for bush tea for breakfast."