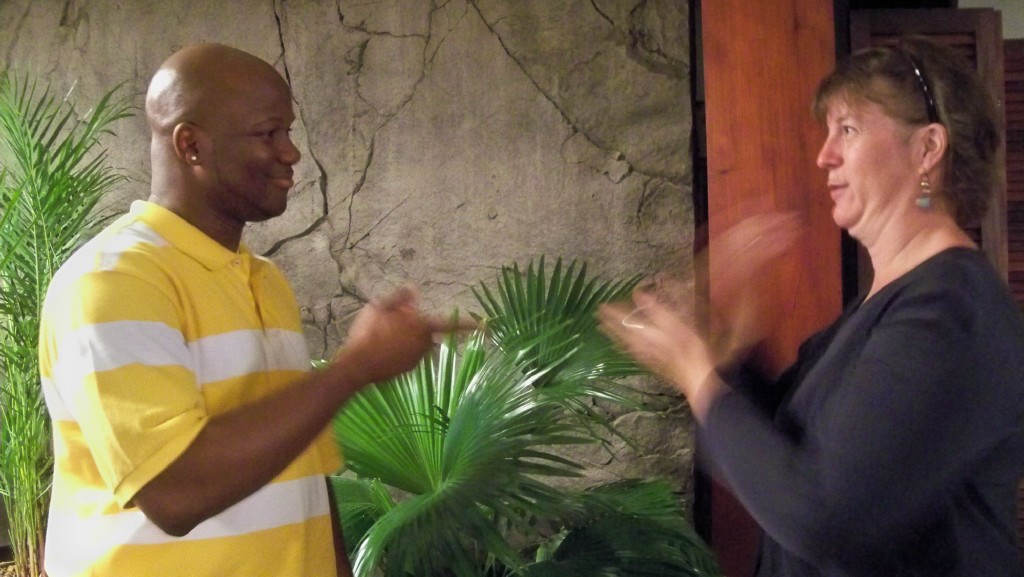 Almost 40 parents and providers of services for the deaf and deaf-blind community had the chance to learn about useful resources available through three U.S. Department of Education-funded programs.
The information was presented to stakeholders at workshops hosted by the Department of Education at the Buccaneer Resort on St. Croix Wednesday and Thursday, and at the Marriott Frenchman's Reef Resort on St. Thomas Friday.
Carrie Johns, state director for the Office of Special Education, said the workshops were primarily geared toward sharing information, finding ways to improve the department's reach, and to hearing concerns related to serving the needs of the deaf and deaf-blind.
Representatives from Post-Secondary Education Programs Network (PEPNet), National Consortium of Interpreter Education Centers (NCIEC), and Florida Outreach Project for Students who are Deaf-Blind presented the workshop.
All of the presentations were done in sign language with interpreters.
Desiree Duda, outreach specialist at PEPNet, presented information in the opening session that focused on middle to high school students' needs.
"Our focus is to help families design and develop dreams for their kids," Duda said. "The goal is to promote independence and work with existing agencies." She said PEPNet has an abundance of free resources for children in kindergarten through post-secondary students up to age 22.
Lillian Garcia-Peterkin, NCIEC's project coordinator, signed about the need for qualified interpreters. She said there is a need for more health care and legal interpreters. She added there is a clear focus on recruiting men and people of color. She also mentioned the strong training on advocacy – of, by and for deaf people.
A panel discussion was held made up of professionals who are deaf.
Astrid Jones, a former St. Croix resident who is currently working at the National Technical Institute for the Deaf in Rochester, N.Y., was a featured panelist.
Jones, who graduated from St. Croix Educational Complex in 1996, said there aren't a lot of role models for hearing-impaired students in the territory. Through an interpreter he said his high school teacher, Caneid Granger, pushed him, really believing he could go much farther.
He said that a lot of parents of hearing-impaired children send them off-island to go to school.
Jill Singer, assistant state director for the Office of Special Education, said according to the 2009 Kids Count Data Book there are only around 20 hearing impaired and 30 deaf-blind children in the territory.
Nisha Clavier, the social services supervisor at Queen Lousie Home, said she was attending the conference because there are a couple of children at the home who are blind and or hearing impaired that she is trying to serve better by helping them communicate.
Meanwhile attendee Sharon James was on hand to find all of the resources available for her hearing-impaired 7-year-old son.
"I want to make sure he gets everything available that is out there," James said.
For more on PEPNet visit its website.