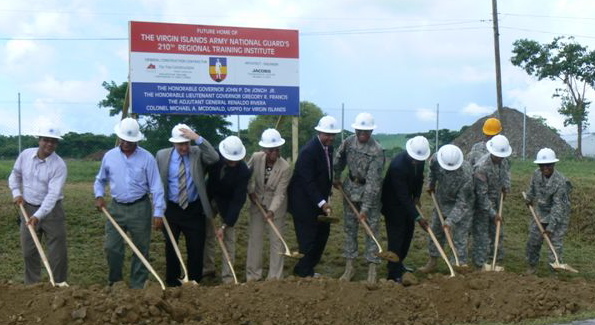 The shovels that went into the ground Wednesday morning were a sign of the rising stature of the U.S. Virgin Islands in the Caribbean and the world, Gov. John deJongh Jr. said as work officially got under way for a new Regional Training Institute for the V.I. National Guard.
DeJongh and a host of other dignitaries were on hand for the groundbreaking of the 210th Regional Training Facility at the St. Croix Armory in Estate Bethlehem.
The ceremony marked the beginning of phase one of the two-phase project that is slated for completion in 2012.
When completed, the institute will consist of a two-story building that will offer 42,556 square feet of classroom and education space, offices, a dining facility with a kitchen, and a dormitory.
A new paved access road, parking for privately owned vehicles and a cistern
for domestic water supply are also part of the project.
Several speakers noted that the world-class training and instruction facility had been 11 years in the making. The start of the actual construction marks a milestone achievement for the guard.
"The Virgin Islands is becoming a player of significance in the United States and in the Caribbean, an intangible that works for our collective benefit, said deJongh, who as governor is commander-in-chief of the guard.
"While we continue making the investments in tourism and continue to expand in manufacturing, this project enables the territory to now also take on a distinct national security significance," he said.
The groundbreaking is "an exciting opportunity" for the guard and the territory, the governor said, enabling important upgrades to our military training capability.
"Two years from now, when this venue is finally completed, the Virgin Islands will have achieved tremendous advancements in military training, homeland security efforts and disaster preparedness," he said. "These advancements exemplify a commitment to progress that highlights the organization's credibility and overall leadership in service to the people of the Virgin Islands."
The center will be used both by the U.S. military and other government and civilian organizations from across the Caribbean and the nation.
Joining the governor at the groundbreaking ceremony Wednesday were Lt. Gov. Gregory R. Francis, VING Adj. Gen. Renaldo Rivera, and Delegate to Congress Donna Christensen, among others.
Accredited every three years by the U.S. Sergeant Major Academy, the training institute will be dedicated to providing world-class instruction and training facilities for both military and non-military organizations.
Over the years, the VING academy has conducted a variety of courses at its current Hamm's Bluff location, including warrant officer candidate, basic noncommissioned officer, and combat lifesaver, among others.
From 2009–2010, the institute trained 152 students.