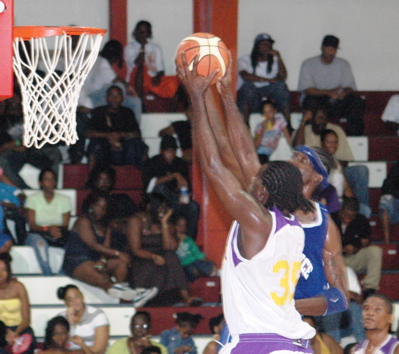 Boys Dem and Guidance will meet in the final round of the 2010 New Breed Basketball Association playoffs, both having swept their semifinal opponents Friday night at Central High's Ronald Charles Gymnasium.
Boys Dem defeated the four-time defending champions Hoyas, 77-66, to finally get a monkey off their back in getting by their old nemesis. Guidance, with all its players finally on hand, knocked off a game Lakers squad 73-70.
Boys Dem 77, Hoyas 66
Each year lately the Hoyas had eliminated Boys Dem while on their way to the league championship, but this year a revamped, youthful Boys Dem squad proved to be too deep and too hungry for the champs. Filled with some of St. Croix best young talents, Boys Dem – with an average age below 20 years ¬ had 11 of the 12 men on the bench in the scoring column. That and a good game plan by Coach Zorro Swanston eventually wore down the defending champs in the second half, forcing them into turnovers and leaving them arguing among themselves.
The Hoyas came out in the first quarter on Friday knowing that their hope for a fifth straight title was riding on a victory. But led by Wilson Ferrance's 14 first period points Boys Dem was able to match that intensity. The Hoyas held a three-point lead at the half, 34-31.
Terron Jones scored 10 points and Ryan Rollins netted nine as Boys Dem outscored the Hoyas 29-18 in the third quarter to take a seven-point lead at 59-52 heading towards the fourth and final quarter.
Boy Dem momentum would continue in the fourth against a Hoyas squad that appeared to be tiring, and with Coach Swanston substituting freely throughout the game his players were visibly fresher. They went on to take the fourth 19-14 for 78-66 victory and a 2-0 series sweep.
Ferrance finished with a game-high 20 points to lead Boy Dem, Terrell Christian had 13 points and 10 rebounds and Rawlins finished with 12 points. The Hoyas was led by Karl John with 18 points, Kurt John had 15 and Roman Castillo netted 12.
Guidance 73, Lakers 70
The Lakers gave a recharged Guidance squad all they could handle before going down in defeat 73-70 in game two on Friday.
The Guidance squad, now with its full contingent of players that include three with Virgin Island national team experience, looked great early in the opening quarter and was beginning to dominate when Lakers Coach Calvin "Baby" Burke was thrown out of the game. This seemed to spark the Lakers, who were down by nine points at the time. They rallied to within one of the lead, 18-17, at the end of the period. Guidance extended the lead back to five going into the locker room at the half, 33-28.
Guidance's Andy Chelcher scored 11 points to lead his team to a 29-point third quarter while his defense held the Lakers to just 13 points for a 57-46 lead at the end of three.
The Lakers fought valiantly to get back into the game, coming as close as a single point of the lead, but despite many opportunities to go ahead, were unable to get that one big basket. In the end they would come up just short, 73-70.
Jabahri Brown, a 6-foot, 10-inch center from St. Thomas who went to the final four with the Oklahoma Sooners in 2002, was huge for Guidance, finishing with 13 points, 11 rebounds and seven blocked shots, Chelcher finished with 13 points and 10 rebounds and point guard Joelfri Polanco scored another 10.
Rashawn Williams and Raul Cesar both scored 17 points for the Lakers while Robert Duck and Malik Hodge both netted 13.