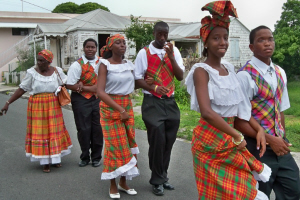 The Emancipation Cultural Parade once again made its way Saturday down King Street in Frederiksted to Buddhoe Park after a hiatus of 12 years.
"We wanted to revive the parade and bring back the culture of music and dance," said Valrica Bryson, music director at St. Croix Educational Complex. Bryson had just finished doing a quadrille in the middle of the street with 14 members of the Complex "Emancipation" Dancers.
Bryson said she and Kendell Henry, local dance caller and musician, spearheaded the revival of the parade that last made its way to Fort Frederik in 1998.
Youngsters made up just about the whole parade that started on time at 1 p.m at Claude O. Markoe Elementary School. It slowly wound its way through town, ending at 3 p.m. There were numerous onlookers sitting in front of clubs and restaurants; retail clerks gathered outside of shops and lots of relatives of the students were out showing their support.
The Educational Complex Barracudas Band was on a flatbed truck playing old-fashioned tunes. The Rising Stars Steel Pan Orchestra was jumping, causing the double-decker truck they were on to bounce along the parade route.
The Complex Masqueraders, in tattered costumes of colorful strips of fabric and masks, danced and cavorted as did mocko jumbies. Local musician Bully Petersen, in his signature straw hat, walked the route playing a wooden flute, and women from his band dressed in old-fashioned gingham dresses played scratch band instruments.
Sharifah Daniel said she thought about doing the early morning fort-to-fort walk but the parade was a good way to commemorate Emancipation Day.
"Remembering Emancipation Day is what it is all about, no matter how we commemorate the day," Daniel said.
At the park, the St. Patrick's School Alumni Association was having a fundraising food sale. And "Redemption Song" by Bob Marley could be heard coming from huge speakers at a bar across the street from the park.