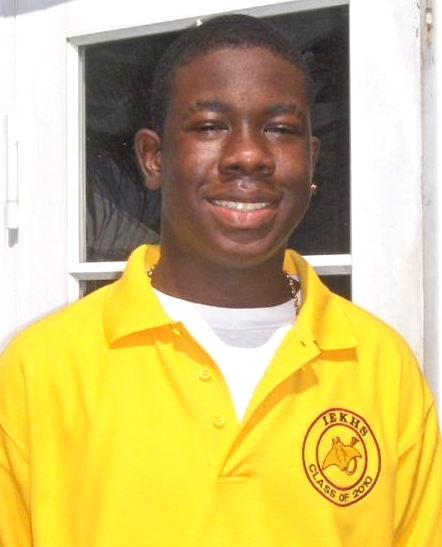 Every year Joseph Douglas sees the graduating classes at Ivanna Eudora Kean High School growing smaller. It's an observation that fills the graduating senior with sadness. It's also one that inspired his winning essay that won him a four-year University of the Virgin Islands scholarship.
The Rotary Club of St. Thomas Sunrise contest asked students to address a complex question: "The Virgin Islands High School Dropout Rate, What can we do about it?"
Jenny Smith, club president, said the members were impressed with Douglas's "compelling" contribution, which she said "outlines the hurdles and obstacles our island youth face today, and why the V.I has such a high dropout rate."
The scholarship was established four years ago in honor of charter member Ronald M. Magnuson, who maintained a deep belief in and commitment to the education of young people. The Magnuson Scholarship pays for tuition, books and fees for the four years of school as long as the recipient remains enrolled at UVI full time and maintains a satisfactory grade point average.
Recent seminars on dropout rates in the territory revealed a disturbing statistic: according to data collected in 2006-2007, about 13.8 percent of 16 to 19 year olds in the territory were dropouts, compared to about 7 percent nationwide.
"I've seen lots of my friends drop out, now they are on the streets. I'm touched by this," Douglas says, adding a chilling observation, "at least they're still alive."
He sees the problem with dropouts as three-fold. A lack of help with their schoolwork, with guidance with personal problems, and the need of a helping hand to direct to find something in school that commands their interest.
He reveals something, which he mentions in his essay. "Most people don't realize this, but we as teenagers have a lot of problems, to deal with, especially young men – peer pressure, bullying, relationship problems, body issues, insecurities and other problems."
One could say these are the normal dilemmas that beset teenagers. But, Douglas has a different slant. Putting himself in the position of a troubled teenager, he says, "Some teenagers keep things inside for fear of ridicule , and try to work out problems on their own. This is never a good idea because you're driven to do all kinds of crazy things when dealing with very deep personal problems."
However, Douglas isn't without hope.
"There might be persons out there that can help if they make themselves known to us. We might not open at first, but this behavior can change. Just showing you care and spending time with us will help us realize that there are persons out that care more than we think."
Douglas is aware of the importance of a family that cares. He comes from a two-parent family with two siblings, a 9-year-old brother, Jovaughn, and a 12-year-old sister, Ariel. In fact, his mother, Avrill Douglas, accompanies him to the interview.
"Lots of kids don't have anyone at home to praise them when they do something well, 'That's great work,' or, to reprimand them when they don't do well," Douglas says. "It's mostly young black men who are dropping out. The classes don't interest them, school is too hard. Then, when they do drop out of school, they hang with other kids who've done the same thing. I've seen this with my friends, and it's sad.
"The solution would be to do things hands on, because lots of the dropout boys have skills, wood work, engineering or mechanics," he says. "I think the best thing would be to open a technical school in the Virgin Islands, for those who just want to learn a trade. This would be better than the young men on the streets doing illegal stuff."
Douglas, himself, says he would have liked to have electrical engineering classes available to him at Kean.
At UVI, he will likely major in accounting and minor in electrical engineering, though UVI doesn't have a four-year engineering program.
Douglas had considered Morgan State University in Maryland for this reason, before he received the UVI scholarship, which he did just this week.
"It was on Monday," he says. "I was so excited, I wanted to jump up and down, but I made myself wait until I hung up and told everybody at home."
He will, however, attend Morgan State, this summer. He will attend a five-week summer college preparatory program, the result of another essay contest, where he was selected as one of 30 students out of 80 from across the nation.
The young man has been very polite and adult in the interview, but you can feel his energy drifting to the evening's festivities.
"I've got to get a haircut," he says with an anxious smile. It is, after all, the most exciting night yet in his 18 years.
He expresses a final thought: "I am certain if school is made more interesting, if teachers care more about their jobs, and if parents show more interest in their child's education, many more young people would stay in school."