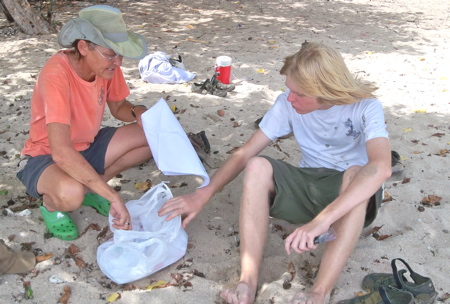 The rudy duck and Caribbean coot are going to find a safe nesting area at Southgate Coastal Reserve wetland area thanks to Eagle Scout candidate Nathan Miller.
Miller, a junior at Country Day School in Troop 227, organized the planting of 1,250 white mangrove trees as his Eagle Scout project. Saturday he organized the planting with 22 Scouts. The previous Saturday, 16 boys and troop leaders helped plant seedlings.
Miller said he had another project in his head he wanted to do but he didn't have time to complete it before his 18th birthday, a requirement to become an Eagle Scout, so he approached Saint Croix Environmental Association and Carol Cramer-Burke, SEA program director, suggested the mangrove enhancement.
"It was an awesome thing to do, helping the environment here on St. Croix," Miller said. "It was fun doing it with the other Scouts. Everything worked perfect."
Following the planting the boys had fun taking a dip in the sea to wash off the gray mud that covered them.
Miller says he has been in Scouting since first grade and his Eagle Scout project has been the best part of being in Boy Scouts.
For the enhancement, under the direction of SEA and the U.S. Fish and Wildlife Coastal Restoration program, the white mangrove seeds were collected at the reserve and propagated at the Gasperi ARTfarm.
Miller will monitor the growth along with Cramer-Burke.
Toby Tobias, Scoutmaster of Troop 227, said only five percent of boys go on to become Eagle Scouts.
"This is a tremendous accomplishment that shows determination," Tobias said. "He has learned life and leadership skills."
Cramer-Burke said Miller is the third local boy to become an Eagle Scout with projects at Southgate.
In 2008 Noah Tobias did his project removing invasive plants and replanting native species of trees and bushes. Christopher James Edwards earned Eagle by clearing and replanting at Southgate and a road clean up around the reserve.
"I have seen Nathan grow because of scouts and this project," said his dad Kevin Miller.