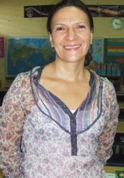 Nancy Laguna-Luque believes that not having a second language "limits the world of a person," and the Charlotte Amalie High School teacher has resolved none of her students' horizons will be so limited.
Luque was selected as the 2010 Foreign Language Teacher of the Year by the Virgin Islands Modern Foreign Language Association St. Thomas/St. John Chapter and the St. Thomas-St. John District Foreign Language Program, by a unanimous vote. She will be officially honored at a dinner ceremony May 29.
A native of Columbia, Luque, who speaks with a lyrical grace in any language, says, "I will take my mother, who is here for the first time, to the celebration. She is my inspiration. This is my offering to her."
The globe-trotting teacher arrived on St. Thomas after a circuitous route from Columbia to Quebec for an internship to a two-years teaching post in Shanghai, China, to Louisiana.
She was about to enter Tulane University in New Orleans in 2005 to study for her doctorate when the mother of two boys – Santiago now 16, and Edgar,19 – made what turned out to be a fateful decision.
"I was ready to make the move, when I saw a job offer posted for a high school Spanish teacher on St. Thomas. The boys were so young then, and I thought the experience of living on an island would be good for them, we could be settled," Luque says. "I made the decision, which must have been inspired by God, and Katrina struck two weeks later."
Though she had never taught in a public school, only private schools and universities, in the last five years Luque has made CAHS her home. She is coach to the school's winning Quiz Bowl team and sponsor of the Luis Llorens Torres chapter of the Spanish Honor Society, where she exercises her passion for language and teaching
Of her early interest in language, she says, "My mother would use random words in her speech, which excited my curiosity about language at an early age. Since I was young I've wanted to explore language. I had a French teacher who would speak in accents I'd never heard before, and it impressed so deeply my desire to embrace and master the language."
That desire flourished into a lifelong pursuit. She holds a bachelor's degree in languages and literature with majors in Spanish and French pedagogy from the National Pedagogical University of Columbia, a master's degree in French from the Colegio Mayor de Nuestra Senora del Rosario, Instuto Superior de Frances, and a master's in Spanish language and literature from the Louisiana State University.
Luque is open and welcoming. Her classroom in non-class hours appears to be a haven for students looking for a quiet place to study or just to exchange a word or two. As our interview proceeds, several students knock politely, then come in to ask questions – delivered and answered – in Spanish.
Her belief in her students resonates through the classroom, through her obvious patience, through the generosity of her time.
"I believe all the students are bright, all have potential. They all learn differently," she says.
As teacher of the year, Luque will represent the territory at the regional level next April at the Southern Conference of the Teaching of Foreign Languages in Winston-Salem, North Carolina. If successful at that level, she will compete in the American Council on the Teaching of Foreign Languages' National Teacher of the Year competition in November, an honor she dismisses with a brief, "That's next year."
What's on her mind is Tuesday, when the Sociedad Honoraria Hispanica, the Spanish Honor Society, the will induct 13 new members. Membership isn't easily achieved.
"It is for students who have the passion, the love of the language, commitment and skills," she says. "They need to score very high in Spanish, to commit to more rigorous levels of language proficiency and discipline. And they must show evidence of community service.
Parental cooperation and commitment is crucial, she says.
"I'm awarding an honorary membership to a mother this year. If they don't cooperate, it's very hard for the youngsters."
While we are talking she is playing a video of last year's Society Inauguration ceremony.
"Listen," Luque says, "That's Karence singing."
Her eyes misting, the tragedy of Karence DeCosta's untimely death at the age of 18, is still with her.
DeCosta, 2009 V. I. Carnival Queen, died in an automobile accident the night of her CAHS graduation.
"She was my angel," Luque says. "She could do everything. I am hoping to develop a scholarship in her name."