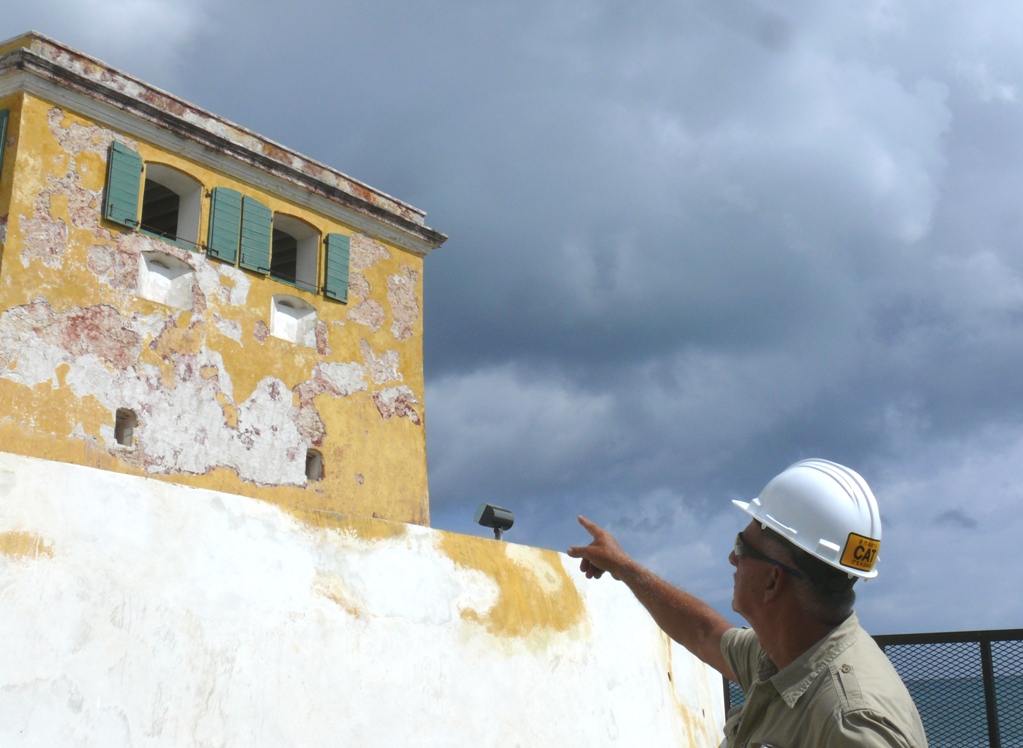 As everyone driving through town has doubtless gathered from the splotches of white limewash and scaffolding, Fort Christiansvaern in Christiansted, showing her age after 272 years, is getting a facelift courtesy of the federal government.
Named Christiansvaern, Danish for "Christian's Defense," in honor of King Christian VI of Denmark and Norway, much of the fort was constructed in 1738, shortly after the Danish flag was planted. Later, after Emancipation and the Fire Burn labor rebellion of 1878, it became a police station and courthouse. Managed these days by the National Park Service, the fort was declared a V.I. National Historic Site in 1952. This is not the first time it has had some restoration done, nor will it be the last.
"These are expensive and time-consuming efforts, but necessary to preserve an historic landmark for future generations," Joel Tutein, superintendent for the National Park Service on St. Croix, said recently. The fort is a national historic site, and the Park Service is footing the bill, Tutein said. Because it is historic preservation, it is difficult, complicated and expensive work.
"The work is up to $1 million so far and it will be more," he said. "The more work you do, the more you find that needs to be done, and you always have to decide how far to go."
Work is perhaps half done and it will probably be close to six months before completion, he said.
Work began around the beginning of February. Stonework, brick and stucco are being repaired, as close to the historically accurate original condition as feasible. That means specialized lime mortar, lime wash instead of paint, mahogany woodwork and other specialty items.
OTAK Group, a specialty civil and marine contractor based in Florida, is doing the work. The first phase of work involves checking and repairing the outer masonry work, said OTAK supervisor Edward Nassau.
"We go around the entire outer wall, all by hand, with mason's hammers, chipping and checking for weak spots," Nassau said, pointing to areas of the wall where loose stucco had been chipped off, exposing centuries-old yellow brick. In two places, they found more serious structural problems, he said. One section of the wall is cracked, from the swelling of old iron, embedded inside the wall. The other issue is spalting – stains from iron in the walls are seeping through to the interior.
"Placing iron inside the wall could be considered an original design flaw," he said. Once chipped and cleaned, repair work can begin. Mostly that work is simply replastering with lime mortar. For a variety of reasons, modern Portland cement mortar cannot be used. It is not historically accurate, it is too hard and brittle, and perhaps most importantly, modern cement does not allow water to flow through the way lime mortar does.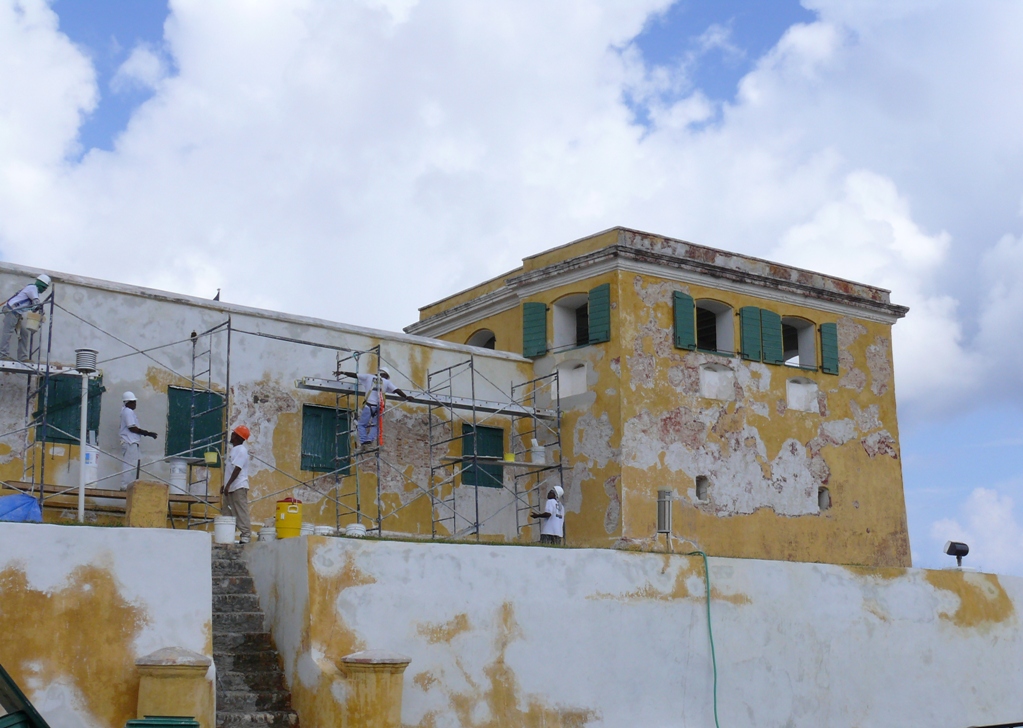 Lime mortar "creates a somewhat breathable outer skin," Nassau said, "which is critical, because these massive masonry walls always hold a lot of moisture."
If more than three quarters of an inch of surface have to be removed, then the surface is redone in three coats.
"Base coat, scratch coat and finish coat; the three phases of applying masonry have not changed in all of history," he said. Because historical feel and appearance are important, they intentionally leave the surface a little wavy, he said. "Character is a criteria for this sort of work. Some of the original walls were very smooth and some not, reflecting the weathering of 300 years."
Nassau pointed out some spots where the base of the fort bulges out in large lumps. The original builders plastered over the boundary between masonry and jagged bedrock, he said.
The masonry work is then covered in yellow, with white trim. But the covering is a lime wash, not paint. "It is similar to the whitewash that Tom Sawyer would have used painting his fence," he said. "It fades over time a bit, but it is authentic and allows moisture through."
All the windows and shutters and nearly half of the door jambs are being rebuilt of mahogany.
"Many of the door jambs had termite damage," he said. "But we were able to restore more than half of them."
The pricey, sought-after mahogany is being painted over, which some have said is a bit of a shame, Nassau said. "I have had people nearly in tears over the prospect of painting the beautiful wood," he said. "But it is being painted because the original mahogany was painted."
Throughout the fort are many old wrought-iron hinges, hasps, clasps and latches, and on the fort's outer wall are rows of sharp iron spikes. Surprisingly, many have weathered the centuries quite well, but some are un-restorable.
"We have Richard Waugh, a local blacksmith, fabricate some of them," Nassau said. "Thanks to him, we can duplicate anything that was made of iron, and at the end, have that level of authentic detail."
Work on the exterior of the fort is nearly complete and should be ready for the 275th anniversary of Christiansted in May. Next comes repairs to the masonry and windows of the interior courtyard. Shutters already exist in storage and will be put up. The full scope of work has not been determined, but work is roughly halfway complete and there may be up to six more months to go, he said. When it is done, the fort will be more historically accurate, more structurally sound and more attractive for years to come.