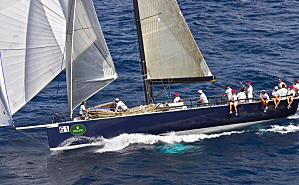 Before the start of racing today at the International Rolex Regatta, tactician Bill Lynn (Marblehead, Mass.) predicted that in IRC class it would be a match race between his team on Austin and Gwen Fragomen's (New York, N.Y.) 52-foot Interlodge and the team aboard Richard Oland's (Rothesay, NB, Canada) Vela Veloce, also a 52-footer. "Then we have to just hope the rest falls into place for us," he added, noting that four of the eight boats in his class were 40 footers likely to have tight racing as well, and it would be up to each boat's IRC rating to equalize the size discrepancies.
After all was said and done, Interlodge, with Lynn driving last-minute for Fragomen when Fragomen fell ill, won Friday's first "town" race, which went from St. Thomas Yacht Club to Charlotte Amalie. As the crow flies, the distance was only five miles, but the Race Committee made sure to extend the experience by throwing in some hitches that took each of six classes back upwind before making a final run to the finish inside Charlotte Amalie's expansive harbor where tourists and townspeople alike got an eyeful of color at lunchtime.
One of the 40-footers, Michael Williamson's (London, UK) White Heat, took a second-place finish in the race, leaving third for Vela Veloce and leading Lynn to reflect at the end of the day: "It will be interesting to see if they (White Heat) are a factor the rest of the weekend." For today's second town race, which reversed course back to St. Thomas Yacht Club, Vela Veloce skunked Interlodge at the start and sailed cleanly to win, while Interlodge settled for second. And it was another of the 40 footers, William Coates' (Bellaire, Texas) J/122 Otra Vez that took third on corrected time.
"It's hard to know how you are doing when you can't see some of the other boats you are sailing against," said Lynn. "We'll just keep trying to get ahead of Vela Veloce, then work for efficiency around the race track; don't tack too much and hope to save time on the little boats."
For all, the day yielded spectacular racing under sunny skies with 15-18 knot breezes keeping sailors on their proverbial toes. In sync with moving things along at a brisk pace was the Race Committee, which calmly started several classes on the return trip while others were still finishing, all in a harbor where anchored yachts added tactical challenges to the tight quarters.
"It's my crew's fault," deadpanned Antonio Sanpere (Christiansted, VI), who handily won both races with his J/36 Cayennita Grande in CSA Non-Spinnaker Racing Class. "No matter how I tried to screw up, they made it right." In the following easterly at the start of the first race, Sanpere launched his 120% reacher to easily pass to port of natural navigational obstacles that others had to come "way up" to avoid. That was the start of his winning moves, which have enabled him to win this regatta four times before as a skipper.
In Spinnaker Racing 2 class, it was a day specially tailored for sport boats, especially in the downwind planing conditions encountered during the first race. Currently leading among 12 boats is Dave West's (Road Town, Tortola, BVI) Melges 32 Jurakan, but tied on points is Chris Stanton's (Christiansted, St. Croic, USVI) Melges 24 Devil 3.
The Beach Cats had their own brand of zip-along excitement, especially John Holmberg, who was sailing with his 11-year-old son Kai on the Hobie 16 Time Out. It was on Holmberg's list of "things to do before I die," and he couldn't have been happier when his son turned to him during the race and said, "Dad, even millionaire kids don't have as much fun as I'm having out here!"
A.H. Riise, Official Retailer of Rolex watches in the U.S. Virgin Islands, takes an active role in sponsorship of the event. The St. Thomas shop is one of the largest in the Caribbean and is located on the historic waterfront of downtown Charlotte Amalie. Island Global Yachting and USVI Tourism are also sponsors of the event. Marriott Frenchman's Reef Hotel, Mount Gay Rum and Heineken are supporters.
Racing continues through Sunday. Online video highlights by T2Productions can be viewed each night by 9 p.m. at www.t2p.tv. Live results, photos and reports are available at rolexcupregatta.com, with updates also available on mobile phones at www.yachtscoring.com/mobile.
Top Three Results
(Place, Boat Name, Boat Type, Length, Skipper, Hometown, Finish Postions, Total Points)
IC 24 (One Design – 15 Boats)
1. Team Maximus / DonQ Cristal, IC 24 24, Jorge Santiago, Ponce, PR, USA – 1, 1, 3, ; 5
2. Orion, IC 24 24, Fraito Lugo, Ponce, PR, USA – 2, 3, 2, ; 7
3. Brand-New Secondhand, IC 24 24, Christopher Curreri, St Thomas, VI, USA – 6, 2, 4, ; 12
Spinnaker Racing 1 (CSA – 2 Boats)
1. Spirit of Isis, Farr 65 65, Elizabeth Brookes, Falmouth HArbour, Antigua, WI – 1, 1, ; 2
2. Kialoa V, Frers 80 78, Freddie Mills, Lake Placid, NY, USA – 3/DNF, 2, ; 5
Spinnaker Racing 2 (CSA – 12 Boats)
1. Jurakan, Melges 32 32, Dave West, Road Town, Tortola, BVI – 2, 1, ; 3
2. Devil 3, Melges 24 24, Chris Stanton, Christiansted, St. Croix, USVI – 1, 2, ; 3
3. Blackberry Enzyme, Henderson 35 35, Paul Solomon, Cascade, Trinidad & Tobago – 6, 3, ; 9
Non-Spinnaker Racing (CSA – 9 Boats)
1. Cayennita Grande, J 36 36′, Antonio Sanpere, Christiansted, VI, USA – 1, 1, ; 2
2. SAGA I, Frers F3 36′, Gerd Petersen, Pembroke Pines, FL, USA – 2, 2, ; 4
3. Bermuda High, Hanse 400 39′ 7, Martinus van Breems, Norwalk, CT, USA – 4, 3, ; 7
Spinnaker Racing/Cruising (CSA – 17 Boats)
1. Lost Horizon, J 122 12.21, James Dobbs, Antigua – 2, 1, ; 3
2. Three Harkoms, Beneteau 442 Oceanic 44.5, James Hudleston, Yarmouth, Great Britain, England – 1, 2, ; 3
3. El Ocaso, J 120 40, Rick Wesslund, Miami, FL, USA – 3, 4, ; 7
IRC (IRC – 8 Boats)
1. Interlodge, JV 52 52, Austin and Gwen Fragomen, Newport, RI, USA – 1, 2, ; 3
2. Vela Veloce, Southern Cross 52 52′, Richard Oland, Rothesay, NB, CAN – 3, 1, ; 4
3. White Heat, Summit 40 39.72 ft, Michael Williamson, London, London, UK – 2, 5, ; 7
Beach Cats (Portsmouth – 5 Boats)
1. Auto Manic, Hobie 16 16′, Chris Schreiber, Christiansted, VI, USA – 1, 1, ; 2
2. Time Out, Hobie 16 16, John Holmberg, St. Thomas, VI, USA – 2, 2, ; 4
3. Chancletero, Hobie 16 16, Michael Williams, St. Thomas, VI, USA – 6/DNS, 3, ; 9