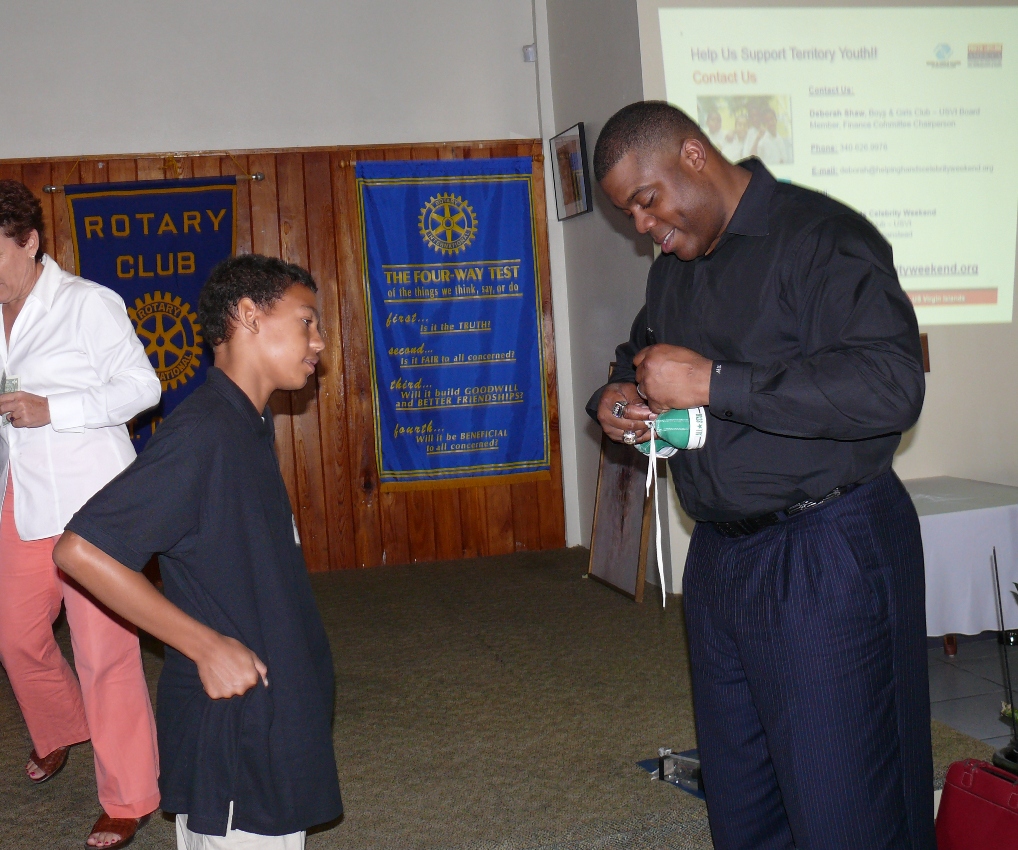 Super Bowl champion and sportscaster Roland Williams has some big ideas to help the territory's youth. At a Rotary Club breakfast Wednesday morning, Williams unveiled plans to raise money for the V.I. Boys & Girls Clubs and a free celebrity football and life skills camp for the territory's youth.
By 7 a.m. the dining room of Gertrude's Restaurant was packed with the members of Rotary Mid-Isle and students from the Kingshill School to hear the big man speak.
Williams is CEO and founder of Youth Lifeline America, a nonprofit organization that since 2000 has drawn on the influence of star athletes, entertainers and prominent business professionals to inspire young people towards productive careers.
As a kid, Williams benefited from Boys & Girls Clubs himself and wants to make sure the group can continue to have as broad a reach as possible. Julie Landreneau of the Boys & Girls Clubs got in touch with Williams and helped spearhead the new fundraising partnership.
"Boys & Girls Clubs is an oasis where kids can hang out," Williams said. "It surprised me to hear from Julie that this one was struggling and needed help. So I am bringing some fun raising—not the normal fundraising but fun raising."
Youth Lifeline and the Boys & Girls Clubs have entered into a fundraising partnership, he said. The first big joint event will be a Football and Life Skills Camp, scheduled for July 12–14 at the UVI Sports and Fitness Center on St. Thomas. Participants will receive expert football training from active and retired NFL professionals, while local and international business professionals will provide mentorship in career development and financial literacy, drug prevention, conflict resolution, diversity training, combating gang violence, leadership and much more. This camp will also have hospitality management training as part of the curriculum.
Kids will get to go free, based on scholarships from donors. Businesses and people who donate and help sponsor teams and players to the football camp will get prominently displayed free advertising, plenty of credit and the chance to hobnob with the various celebrities over the weekend.
Actors Brian White, Bill Bellamy, Dean Cain and Morris Chestnut; football greats Floyd Little and Michael Strahan; and Cayman Islands model Selita Ebanks are just some of the many stars signed up for the weekend.
Williams, played 8 years with the Rams, Raiders and Buccaneers.
"I know all those teams are not good right now, but when I played all those teams worked well," he said. He was with the Rams when they won Superbowl XXXIV and the Buccaneers when that team lost Superbowl XXXVIII.
He has appeared on media outlets including ESPN, Nickelodeon, NFL Network, CNBC, Fox, Fox Sports Net, CBS, ABC and many other television, radio and print publications. Roland is currently a sports analyst for CBS College Sports, VERSUS Network and Fox Sports Net Midwest.
This camp is just the first of many fundraising efforts. Ultimately, he and Lifeline are shooting to raise $500,000, he said.
The website, www.helpinghandscelebrityweekend.org, gives information on how to donate, participate and sign up. Thursday at 6 p.m. there will be a meet-and-greet at the Palms at Pelican Cove on St. Croix, where business owners, donors, community groups and parents can find out more about the camp and other fundraising plans.