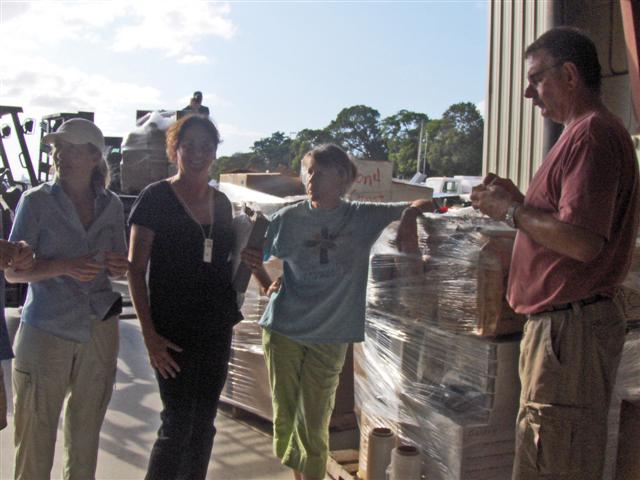 Working from 7 a.m. Monday until the last pallet was loaded about 9 p.m., volunteers for the V.I. Haitian Medical and Children's Relief Trip, now known as USVI Haitian Relief, filled its first cargo flight with almost 7,500 pounds of desperately needed supplies for the earthquake-ravaged country.
The Short 360 Cargo aircraft was loaded on St. Thomas and left for Haiti from San Juan Tuesday morning.
"With the Cape Air flights, we get only about 200 pounds on board," said Swazi Clarity, Monday's organizing manager for the all-volunteer project. The airline donates thrice-weekly flights, including pilots and fuel.
The $11,000 flight was donated by the India Association of the Virgin Islands. USVI Haitian Relief founder Carmen Partridge, normally the center of calm, quietly organizing the mission in the face of her ever-ringing cell, took time out to survey the hangar filled almost to the brim with pallets being shrink-wrapped by the volunteers.
"This is just unbelievable," she said, exhibiting a big smile. "The India Association heard about our mission and directed the money they donated to us."
Pash Daswani, India Association acting president, said the organization collected the money in just over a week, from an e-mail request of the association's 60 members. Daswani said the association members have known similar, though not as dire, circumstances.
"We should help," he said, "do anything we can, after all the aid we got after Hurricanes Hugo and Marilyn. Haiti clearly needs our help. They are our neighbors." He said plans for another flight are tentatively set for next week.
Most of the day, the scene in the hangar was controlled activity, as volunteers of all descriptions sorted the boxes, prioritizing and labeling them along the way.
The 14 pallets contained boxes of everything imaginable from baby formula, laceration trays and canned food and fruit with pull-tops to clipboards, catheters, cooked hams, art supplies and a few stuffed animals.
"What we're doing," said Clarity, looking up from a brief discussion with Georgeanne McNicholas over where and if some fresh fruit should go, "is packing and labeling everything so when it's unloaded, they will know right away where it goes."
The women, along with volunteers June Archibald and supply coordinator Kim Russell and
assorted male volunteers – didn't stop for a minute. However, Clarity said there was no need for any more warm bodies.
"Yanick Bayard at the Sea Chest sent over loads of tools this morning: drills, soldering irons, you name it; loads of supplies. She wanted to send five workers, but we really didn't need them. We had to turn people away."
Supplying brawn, hauling the heavy boxes and shrink-wrapping them, were Karl Wiklund, Thomas Layd and Peter Craig. Most of the volunteers had never before met, but they worked like a well-oiled machine.
Peter Patterson, an initial volunteer flight organizer, was back on the line Monday. "You know why this works," he said, "no ego. They're just getting things done. I've never seen anything like it."
One pallet was marked simply "Amy urgent." That would be logistics expert Amy Gurlea, now in Haiti. "Amy e-mails us a list each night of what she needs," Clarity explained.
Fraser Drummond of Bellows International was working hands-on Monday afternoon, directing and unloading the massive amounts of supplies, accumulated at the warehouse and then trucked to the Jet Center. Along with Bellows, West Indies Corp. and Leeward Island Mgt. have donated both warehouse space and the trucking.
Gallery owner Corrine Van Rensselaer studied the pallets, figuring where she could stick a few more art supplies. She has collected supplies for her project, A.R.T. Haiti, which she plans to make an ongoing project to help rebuild the industry. "Antilles School yesterday donated 290 individual packages of supplies," she said.
See the mission website for donation information and updates on the project.