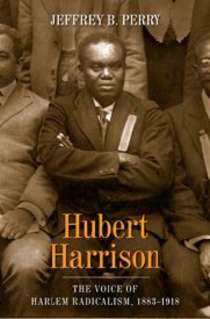 A scholarly book about St. Croix native Hubert Harrison, a major figure in the Harlem Renaissance, is getting good reviews from academics. "Hubert Harrison: The Voice of Harlem Radicalism, 1883-1918," a recent biography written by Jeffrey Perry, was given a glowing review in the American Library Association's "Choice" magazine recently.
"This critically important book will do for Harrison what David Levering Lewis did for [W. E. B.] Du Bois," wrote Wayne Glaser, director of the African-American Studies Program at the University of Pennsylvania, describing the work as "meticulously researched" and "essential for all levels" of study.
Born in Estate Queens Quarters in 1883, Harrison came to New York as a 17-year-old orphan, never to return to the Virgin Islands. Largely self-taught, Harrison became the foremost African-American intellect of his time and the father of Harlem Radicalism, according to Perry.
A leading black organizer in the Socialist Party in its very early 20th-century heyday, Harrison founded the New Negro Movement and wrote prolifically. In 1920 he was the principal editor of Marcus Garvey's "Negro Works," and it was under Harrison's editorship the magazine went worldwide. He was also the first regular black writer of book reviews.
A self-described working-class scholar who was educated at Princeton, Harvard, Rutgers, and Columbia, Perry preserved and inventoried the Harrison papers at Columbia University before writing the book, the first of two planned works on Harrison. For more on the book and its author, see the link to Perry's website in the related links below.