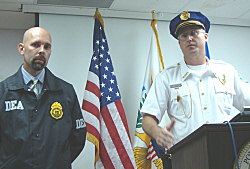 In a five-day drug eradication program that ended Friday, Virgin Islands police working with other agencies seized and destroyed some 3,000 marijuana plants, Deputy Chief of Police Christopher Howell announced at a press conference Friday.
Similar operations were conducted on St. Thomas and St. John and concluded Friday, Howell added, but he did not have information on how successful those were.
One person was arrested on St. Croix as a result of the efforts of VIPD, Drug Enforcement Agency, the U.S. Marshal's office, the FBI, Virgin Islands and Puerto Rican National Guard units and other agencies, Howell said. Another 20 or more individuals were detained, added Timothy T. Williams, the resident DEA agent in charge on St. Croix, but they were not arrested.
But that is not the end of the story, Howell said.
"We are mission-oriented," he said. While the drug eradication program is going on, law enforcement is focused on finding and destroying drugs. Afterwards, information developed as a result of the program will lead to further investigation.
"In the next six months afterwards you'll see the fallout from it," Howell said.
About a dozen people a day were involved, Howell said. The deputy chief declined to discuss how the operation worked except in the most general way, saying it was important to maintain operational security so as not to tip off drug traffickers on how the police work.
Working with information from a variety of sources, spotters in helicopters scanned the islands for drug activity. Howell said the spotters have specific things they look for, but declined to say what they are.
When a potential marijuana operation is found, the location is called in and officers on the ground go in to take it out.
About 40 percent of the marijuana seized was found growing in individuals' backyards, Howell said. Another large share was found growing on either public land or land owned by someone other than the marijuana grower.
Howell pointed out that besides the value of the seized crop, growers face the forfeiture of any personal property, including the land itself, that was used to further the illegal enterprise.
This month's operation was moderately successful, Howell said. In past years they have seized as many as 10,000 plants.
Over the years, Howell said, he has seen a rise in the number of indoor marijuana-growing operations. These require large quantities of electricity to operate the lights, air conditioners, fans and other equipment required, and typically that power is stolen.
Howell cited as an example a recently raided indoor operation that stole about $100,000 a year from the Water and Power Authority, a cost that rate-payers throughout the territory end up bearing.
Outdoor operations also have a public cost beyond the breaking of laws, he added. Growers bring in fertilizers and pesticides to the remote growing locations, and those often end up seeping into ground water or getting washed into the ocean.