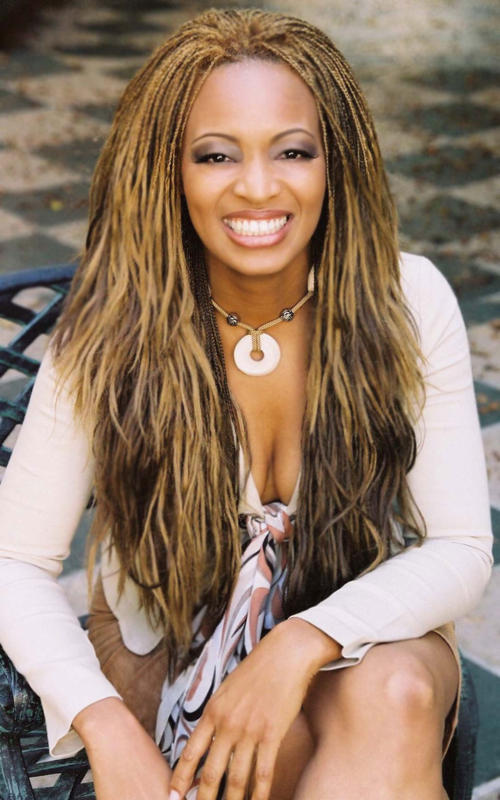 Barefoot Buddha in Havensight offers more than coffee and light fare: People seeking clarity can consult Sheila V'Eleos, a spiritual life coach, clairvoyant, native Cherokee spiritual healer and tarot-card reader.
A spiritual life coach is someone who provides marriage, family and child counseling from a spiritual perspective, like a therapist or a counselor, according to V'Eleos.
"My purpose is to help people find their inner strength so they can fill their lives with accomplishment," V'Eleos says.
While looking for a place to retire, V'Eleos came to St. Thomas to visit her daughter. She says she found a great deal of energy on the island and decided to stay.
V'Eleos has felt a spiritual connection all her life and recalled incidents when she was a child that embarrassed her family members.
"My mother used to tell me to shut up," V'Eleos says. "I didn't think I was saying anything. I guess I was just telling everybody's business. … I know that I made other people feel very uncomfortable."
She was surprised to learn that her abilities were not the norm.
"I had these abilities all my life," V'Eleos says. "I was very annoyed at first to find out that everybody else didn't have them."
V'eleos explained that her great-grandmother was a Cherokee medicine woman.
"These gifts are passed down the matriarchal line," V'Eleos says. "People can identify with a Native American medicine woman."
She hasn't let her family's embarrassment slow her down, though. On St. Thomas just over two months, V'Eleos has set up her practice in the Barefoot Buddha and performed confidential readings for more than 50 clients.
V'Eleos has found people on St. Thomas more receptive to her work than anywhere else she has ever been.
"Most clients are just intrigued," V'Eleos says. "The are reluctant to ask for a reading until they talk to me for a minute. Underneath it all they don't know what to expect. People fear what they don't know."
Her experience began with training in the U.S. Air Force as an aero medical evacuation technician. V'Eleos is a veteran of Operations Desert Shield and Desert Storm. She later worked in private sector mental health care in Fresno, Calif., counseling adults, adolescents and children.
Her biggest training was life itself, she says: overcoming trials as a mother of two that included evictions from her home.
People ask her how it is that she doesn't become negative from the counseling.
"I have yet to come across anybody who has overcome as many bad experiences as I have overcome," V'Eleos says.
A woman recently came to V'Eleos, saying she had a perfect marriage, a perfect family a successful career and a happy life, and asked, "Why would I need you?" V'Eleos says her response was, "You don't."
During her interview, V'Eleos gave a brief reading to three ladies present. The readings resonated with some.
"There was definitely some validity to what she said," the second woman says. "I think if I could have had a more in-depth reading I could see if she was convincing or not. For me, to grab one card and for her to say that — she wasn't wrong."
The reading for a third woman struck a note.
"I pulled out one card and I felt that what she read for me applied to my life," the third says.
V'Eleos says that sometimes for a reading to resonate it takes more than just one card.
"A lot of people believe there are spiritual guides giving them good guidance, but they don't trust themselves when they are receiving the guidance they are being given," V'Eleos says. "So they come to me for verification."
Sometimes V'Eleos has to give her clients bad news from what she sees. It is then that she puts on her spiritual life-coach hat.
"I don't create the message," V'Eleos says. "It is not my place to determine whether the information I am providing is good or bad. I do not pass judgment on the message or the people I'm giving it to. Its my job as a spiritual life coach to guide them in ways of dealing with it."
There are two types of skeptics, according to V'Eleos. The first are those who were taught to be skeptical.
These "people point out passages in the Bible against seeing a seer — I think they call them oracles," V'Eleos says. "But the Bible also speaks very highly about gifted seers, messengers sent from God, but nobody brings up the point about how you tell the difference between a fortune teller and a prophet."
The second type of skeptic is an unawakened being, she says. Their intuition is mostly undeveloped, so they can't relate to her at all, V'Eleos says.
Regardless of the message, or how deep a reading gets, V'Eleos says the session leaves people feeling lighter.
"When you feel lighter, you can get closer to experiencing joy," she says.
V'Eleos says it is important to her to be available for everybody, which is why she has sessions priced as low as $15 for an eight-minute session. Her hour-long sessions are $75 and half-hours are $45.
To contact V'Eleos, visit www.asksheilav.com.