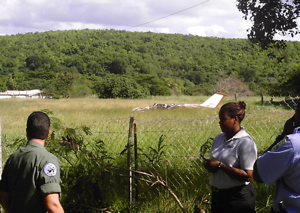 Three men died Thursday in the fiery crash of a small plane shortly after it took off at about 1:30 p.m. from Henry E. Rohlsen Airport on St. Croix.
The plane came down in a small field east of East Airport Road, about a half-mile south of the Queen Mary Highway, where, according to witnesses, it burst into flames on impact.
The names of the victims were not released by authorities pending notification of their families.
Jose Gonzalez was working at the U.S. Department of Agriculture experiment station on East Airport Road when they heard the plane.
"We couldn't see it," he said, "but we heard it. It was making a funny noise."
According to Gonzalez and a man standing with him who didn't give his name, the plane made a shrieking noise, what they described as a high-pitched "Eee" sound.
Then there was a "boom," Gonzalez said. "One time, just boom."
By the time the workers got around to the east side of USDA's property off East Airport Road, emergency vehicles were already on the scene.
Police Information Officer Melody Rames confirmed the quick response. She said observers on the ground at the airport could tell almost immediately that the plane was in trouble and alerted emergency responders, who were on the scene in two minutes, she said.
The plane was a privately-owned Cessna 177, a white, single-engine plane with some light brown trim. According to Rames, the plane had taken off from Captain Al's Flight School and appeared to be heading towards St. Thomas.
Chief Gregory Richards of St. Croix Rescue said the bodies of the three victims were badly burned and were being extricated from the wreckage with care to preserve any evidence.
Planes of this size typically do not carry "black box" data
recorders or other cockpit recording information. Rames said she did not know if there was any conversation between the plane and the ground indicating the nature of the problem.
More than 30 rescue vehicles were on hand from St. Croix Rescue, V.I. Port Authority, the V.I. Fire Department, the V.I. Police Department, the National Guard, Emergency Medical Services, the Federal Aviation Administration and the National Transportation Safety Board.