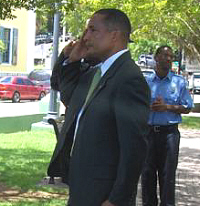 A wreath of softly hued flowers was placed before the Emancipation Garden replica of the Liberty Bell by Senate President Louis P. Hill, as the bell pealed 11 times Friday in honor of war dead from the American Revolution to the war on terror.
It was a solemn moment in the Friday ceremony, a community remembrance of 9/11 by the American Legion Patrick U. George Post 90, many of whom had marched down Veterans Drive from Addelita Cancryn Junior High School, arriving early for the noon ceremony.
Though their hearts were in it, some of the Legionnaires expressed disappointment at the sparse crowd — barely a handful who gathered to join the nation in observing the eighth anniversary of the Sept. 11 attacks.
Legionnaires Hubert Ranier, Weston Phillips, Kenneth Reovan, Martin Touhy and Edie Johnson exchanged memories of parades past.
"No church bells today," said Raimer. "In 2002, the first anniversary, we had bells from eight churches. Maybe enough people didn't know about today's program."
Ranier said, "We've all marched for the past seven years for 9/11," and none of them had any idea how many veterans parades they'd marched down Veterans Drive in years before that.
Ranier looked at his comrades. "A lot, a lot," they all agreed, with big smiles.
Led by Harry Daniel, Office of Veterans Affairs assistant director, the ceremony began with the Striking of the Four Fives in honor of those lives lost in the Fire Service. Daryl George, Fire Service assistant director, spoke of the 300 plus firefighters lost in the attacks. "It chills me," he said. "We do our jobs to protect the community."
Rodney Querrard, V.I. chief of police for St. Thomas, cautioned, "We need to be on guard. We have Hovensa and the cruise ships here."
Querrard said, "Times change. We need to be nosy neighbors now; we are no longer a village raising our children. Terrorist and criminals look for an opportunity,"
While noting the tragedy of Sept. 11, 2001, keynote speaker Hill said, "This is not a day for us to wallow in despair…. Rather, today is a time to stop to remember the American lives which were lost, and to celebrate the people who serve and save lives."
He mentioned one life in particular: "In Washington, D. C., the life of one of our own was ended," Hill said. "Staff Sergeant Maudlyn White from St. Croix, who was working in the Pentagon on that day."
"Hundreds of brave people serve in the Virgin Islands every day. Today let us stop to thank them."