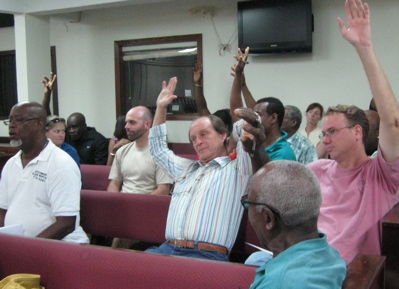 St. John's tourism industry has grown tremendously in the past couple of decades, and St. John's car rental fleet hasn't kept pace with the need for rental vehicles because of a quota.
Since there aren't enough cars to rent on St. John, particularly during the busy winter months, visitors bring St. Thomas-based rental cars on the barge to St. John, car rental company owners said.
"There are 60 or 70 cars a day coming from St. Thomas," St. John Car Rental owner Albert Willis said Wednesday at a meeting called by the Motor Vehicle Bureau.
Willis was one of several people who complained about the St. Thomas-based cars at the meeting held at the Legislature.
According to Motor Vehicle Director Jerris Browne, St. John has a quota of 625 rental cars. However, he said only 560 cars are registered as rentals. That number is imprecise because some companies include cars no longer in the rental fleet in their count and some companies sold off cars in the spring but haven't received the new ones due to arrive in the fall.
Browne plans to contact each of the island's 19 rental car companies to reconcile his list with what they actually have to rent and are expecting to add to their fleet in the fall. He said some companies have more rental cars than their quota calls for and some have fewer.
Once he knows where things stand, Browne said he plans to allocate those slots not being used by the car rental companies to those who will use them, he said.
After hashing issues around, Browne took a survey to determine if the companies wanted an increase in the quota. Of those at the meeting, 10 representatives raised their hands to support an increase while one was against it.
At issue for Deputy Police Chief Darren Foy are St. John's parking and traffic problems. However, car rental company owners pointed out that those St. Thomas-based rental vehicles barged over to St. John are taking up parking spaces that could be used by St. John vehicles if the quota were increased.
Several car rental company owners said police officers ticketed their customers for not having registrations and insurance cards in the car. Several said the paperwork is thrown out by the customers when they clean out the glove compartment.
"You need to inspect your vehicles before they go out," Foy advised.
He also said that ticketing rental car drivers was at the police officer's discretion.
O'Connor Car Rental owner Robert O'Connor Jr. said he's had customers make off with one of the car license plates.
Another rental car company owner said that he's had to pay tickets received by customers long after they visited. He said he only finds out about them when he goes to register the car, and by that time, the amount owed has grown because of penalties.