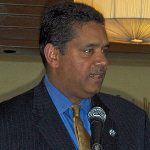 About 60 residents joined Gov. John deJongh Jr. and some of his cabinet in the auditorium of St. Croix's Alfredo Andrews Elementary Wednesday evening to discuss concerns in the Aureo Diaz Heights, Calquohoun, Castle Burke, Clifton Hill, Estate Coble, and Estate Profit communities. The meeting was the latest in a series of town hall meetings the governor is holding throughout the territory.
"As we learn more about each of your concerns, we are able to target resources to help make small changes in each neighborhood," deJongh said at the meeting, according to a statement from Government House." These meetings are tremendously important, and we know there are issues, such as road conditions, high (utility) costs, as well as solid waste management, and we are here to work closely with you to address them."
Answering questions alongside deJongh were: St. Croix Administrator Dodson James; Police Commissioner Novelle E. Francis, Jr.; St. Croix Police Chief Oakland Benta; Housing, Parks, and Recreation Commissioner St. Claire Williams; Public Works Assistant Commissioner Roberto Cintron; and Fire Service Director Victor Browne..
Residents said they needed better road signage, drainage and gut repair, increased police presence, and speed bumps in certain areas. Several said there was not enough lighting on some public roads. Others pointed out specific locations throughout the neighborhood where junk and abandoned vehicles need to be cleared out.
St. Croix Administrator Dodson James said a site has been identified to store abandoned vehicles before they are processed and taken off island.
"We are going to put forward a program that really cleans up St. Croix and we ask for your support in letting us know where you see abandoned vehicles or other items that may be dirtying our island," James said.
Francis spoke about the importance of "back to basics" community policing as a critical part of the ongoing work of the Virgin Islands Police Department.
"Our mission of public service requires that we go into the communities and towns focused on the needs of residents in order to provide a better quality a life for all," Francis said.
Housing, Parks, and Recreation Commissioner St. Claire Williams spoke about his department's ongoing upgrades to playgrounds, basketball courts, and public restrooms, noting it recently put in a new scoreboard, lighting, picnic tables and other upgrades in Estate Profit and Castle Burke.
Public Works Assistant Commissioner Roberto Cintron answered questions about work at Central High School, summer maintenance at John H. Woodson, Jr. High School, contractor payments, drainage work and grass-cutting in certain areas.
Cintron also spoke about ongoing road repair in Lorraine, Clifton Hill, and along Midland Road., saying some funds from the $87 million bond bill recently passed by the Legislature will be earmarked public roadways.